News / Local
Bulawayo to crackdown on Vendors4ED
14 Mar 2023 at 19:56hrs |
Views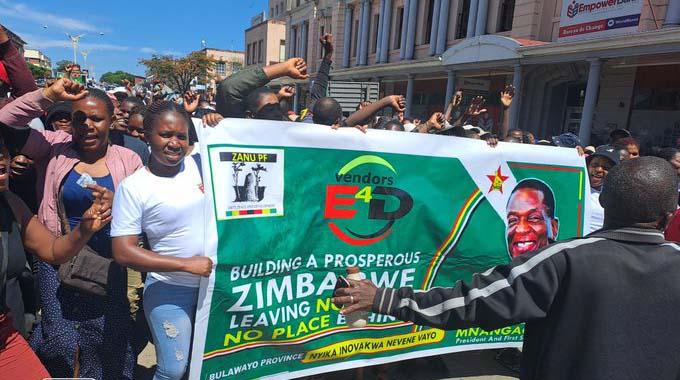 BULAWAYO councillors have resolved to launch a crackdown on President Emmerson Mnangagwa's shadowy group operating illegally in the second-largest city under the moniker Vendors for ED.
The group, whose notorious members are believed to be from parts of Harare, are resisting enforcement of by-laws to restore order in the central business district's 5th Avenue where they are camped.
On 23 February, municipal police battled to clear them off the streets but they converged on the Large City Hall in huge numbers where they were addressed by Zanu-PF's Bulawayo Nehanda district chairperson Josiah Mutangi.
In his address, Mutangi told the restive vendors to defy police and council officers. He told the vendors to go back to their illegal operating spaces.
However, a resolution has since been made by Bulawayo councillors to crack down on the restive group despite its political backing from Zanu-PF stalwarts.
The resolution was made during the 3 368th full council meeting of the Bulawayo City Council on 2 March 2023 after recommendations for the operation had been brought forward by the local authority's environmental committee.
Mayor Solomon Muguni and several councillors who contributed during a debate on the resolution reiterated that the city risked losing investors and tarnishing its good image due to the activities of the shadowy group.
"The question is: Are they real traders or something else? If they can throw stones at municipal officers, the question will be: Are they just trying to defend tomatoes with their lives or there is more to it like pushing drugs?" Mguni asked.
"We need to protect the legacy of order in Bulawayo for future generations. We are now therefore in clearing mode. We are going to clear, (the shadowy group) clear and clear again."
Ward 9 councillor Donaldson Mabutho said the situation prevailing on 5th Avenue had become political and therefore also needed a political settlement. He said council should engage Zanu-PF's Bulawayo chairperson Jabulani Sibanda, who is former national chairperson of the Zimbabwe Liberation War Veterans' Association.
"We are talking of individuals who are riding on a political horse. Maybe they want to use it as a campaign tool that the city fathers are failing to keep the city clean. That is what is happening in 5th Avenue.
"My plea to you, Your Worship and chief accounting officer, is that as a matter of urgency, the resident minister (Judith Ncube) and Zanu-PF chairman in this Bulawayo metropolitan province Jabulani Sibanda, must be engaged so that we bring peace in 5th Avenue.
"The issue of 5th Avenue is not about legalities. It's political and it needs a political solution. 5th Avenue turned into an eyesore after the Covid-19 outbreak.
"There is a political volcano at 5th Avenue which can erupt at any time. You can't also take an investor and drive along 5th Avenue. They will board the next plane and go back to wherever they will have come from. 5th Avenue was not like that before. We have seen isigodlo sithunjwa Nkosi [the city has been invaded]. Ninety percent of those people in 5th Avenue are not people from Bulawayo and I can bet my last cent," he said.
Ward 21 councillor Tinevimbo Maphosa spoke strongly against the shadowy group. He called for a serious all-stakeholders' meeting to read the riot act to the ring leaders of the group.
Ward 19 councillor Christopher Dube said Zanu-PF is disrespecting the people of Bulawayo.
"We are trying to make Bulawayo clean by clearing illegal traders, then someone says go back and sell at the illegal sites. It's not proper. We are asking that those people show us some respect," he said.
Ward 24 councillor Arnold Batirai said the notorious group should not be allowed to operate above the law.
"We have more than 10 000 (vending) bays in the CBD. They must follow the rules and operate in those," he said.
Michael Ndiweni, the Bulawayo Vendors Association executive director, told The NewsHawks that the shadowy group had fomented lawlessness in the country's second-largest city.
"There is a serious issue of space barons who appear to be a law unto themselves. They have caused and are at the centre of all this mess — selling of drugs, illicit alcohol, duping innocent women and men who are informal traders by promising them protection through collecting a US$1 a day and they are literally eating the money collected," Ndiweni said.
"What is very unfortunate is they then expect council to clean the waste they generate with their own diesel, use of their own trucks, getting toilets overflowing with sewerage and expecting omahlokoza [council workers] to come and work for free. Surely a genuine informal trader would not condone such acts. It's sad that these traders are now at the mercy of authorities.
These space barons are now cartels, a law unto themselves."
Ahead of the next general elections, several shadowy groups pledging allegiance to Mnangagwa have emerged but some have gone into illegal activities such as forcefully invading public spaces like schools.
The Amalgamated Rural Teachers' Union of Zimbabwe last year complained that a group known as Teachers for ED had started holding workshops at schools, campaigning for Mnangagwa.
The group was given the nod by rhe government to "roll out its economic development" programmes in all schools where hundreds of teachers are abandoning classes to attend the workshops.
Teachers for ED got government approval for its controversial activities in a letter dated 22 September 2022, written by acting Primary and Secondary Education secretary Kwadzanai Nyanungo.
"Your communication dated September 2022, is hereby acknowledged," Nyanungo wrote.
"Permission is granted for the roll out of the economic development programme in schools, on the understanding that teacher participation in your proposed activities is in the spirit of voluntary teacher building capacity programme, with due care that there is no disruption to planned teaching and learning process in schools," read part of the letter.
However, teacher unions complained that schools are professional institutions which are not supposed to be politicised, especially during learning hours.
Groups pledging support to Mnangagwa and conducting controversial activities include Mahwindi for ED, Nurses for ED, Pastors for ED, Lecturers for ED, Mahure for ED, and Men Believe ED.
Source - thenewshawks