News / National
Henry Olonga feared Mugabe thugs would kill him
02 Dec 2017 at 14:15hrs |
Views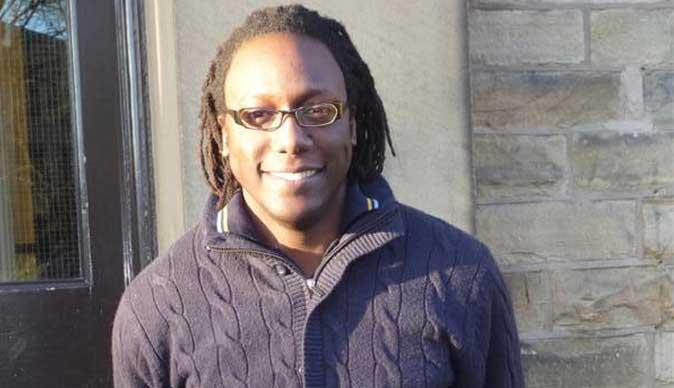 Almost 15 years after Henry Olonga wore a black armband, Mugabe's rule in Zimbabwe is finally over. "I'm stunned," he says. "Here we are in a country that is Mugabe-less for the first time in 37 years. It's extraordinary."
Henry Olonga had long assumed that Mugabe – who "held 15 million people ransom to the weird machinations of some depraved mind" – would die in power. "I hope that Zimbabwe will get leadership that is worthy of the people. The Zimbabwean people should say never again to someone like Mugabe. We can't have a despot like that again."
And yet what replaces Mugabe's regime in Zimbabwe remains uncertain. Mugabe's successor, his former vice-president Emmerson Mnangagwa, "is cut from the same cloth," Olonga acknowledges. "You could argue that this man was there when a lot of the nonsense happened in Zimbabwe – human rights abuses in the 1980s in Matabeleland, farm invasions, the bulldozing of hundreds of thousands of people's homes, corruption."
Still, Henry Olonga cannot help but be optimistic. "You want to give someone the benefit of the doubt. If there's the opportunity for them to bring effective change in a country – well, you give them a chance."
The germ of one of the most famous protests in sport came a month before the 2003 World Cup, over a cup of coffee with Andy Flower. He was surprised by the invitation. On a tour of England in 2000, which took place against the backdrop of land seizures by the Mugabe regime, principally against white farmers, Olonga criticised how white players treated their black staff on their estates in Zimbabwe.
"They treated me differently to the way they would treat their own workers. I challenged them. Is that right, you know? Is it right to look down on people?"
He and Flower "weren't that close," Olonga recalls. Yet over coffee the two found a shared cause. "Although we had a strained professional relationship we found ourselves on the same side of a coin, of the idea of protesting against Mugabe. And so we found common ground, and then put our differences behind us."
Flower initially proposed that that the entire squad boycott the World Cup. Olonga considered this impractical. Eventually the two, together with David Coltart, a lawyer and MP from the Movement for Democratic Change, hit upon a more subtle protest.
Flower and Olonga, the leading white and black players in the team – Olonga, indeed, was Zimbabwe's first ever black cricketer – would wear armbands in protest against Mugabe. The night before Zimbabwe's opening game, Olonga watched Gladiator for inspiration. When he and Flower took to the field, they wore black adhesive tape, and released a 450-word statement "mourning the death of democracy in our beloved Zimbabwe" under Mugabe.
Olonga had worn the armband expecting it to receive international attention. What he had not expected, as he details in his absorbing autobiography Blood, Sweat and Treason, was the depth of hatred he now faced in Zimbabwe.
"We were standing up against that kind of inequality between the rich and the poor, the extravagance of the Mugabe family. And the poor guy who doesn't have enough money to buy a new pair of shoes or fresh shirt hated me more than Mugabe, the man who was the cause of his misery. Go figure. The guy with nothing says: 'Olonga, you're a sell-out!'"
Olonga was immediately dropped from the team, for clearly non-cricketing reasons, and was derided as an Uncle Tom. "You've got the first black player for Zimbabwe as a mentor to a mainly black side, standing up against the government of Robert Mugabe, a liberation war hero. They didn't like it. So they vilified me."
He was followed. His phone was bugged. He received death threats by email. During one match, Olonga was abused by Mugabe's youth militia. Most ominous of all was a message his father received from a contact at the central intelligence organisation just before the game against Pakistan: 'Tell your son that he needs to get out of Zimbabwe before the World Cup ends.'
"I aware of the fact that I could meet an ugly end," Olonga says. "There was definitely moments of fear."
Olonga was lucky. After a few nervous weeks in South Africa, David Folb, the chairman of the Lashings World XI, helped him move to the UK. Yet Mugabe's regime still afflicted Olonga: his Zimbabwe passport expired in 2006, and he was told that he could only renew it by returning there.
And so, for a decade he was a citizen of nowhere. He remained in the UK, in Taunton, but, until he gained a UK passport in 2015, could not leave the country. A few months after getting his passport, he emigrated to Adelaide, the home town of his wife Tara, with their two children.
Cricket gave Olonga much joy – crucial contributions in consecutive Test victories against India and Pakistan; a match-clinching spell of reverse swing against India in the 1999 World Cup; 6-19 in an ODI thrashing of England – and yet it also burdened him. Olonga was given "label after label after label" – everything from 'erratic' bowler to tail-end 'rabbit' and then, most unwanted of all, the 'Uncle Tom' moniker. He likens his departure from the game, aged just 26, to "a bad divorce" and considers cricket "very insular and inward-looking".
Charity work, mentoring children and helping prisoners, are altogether more fulfilling. He also hopes to release an album next year, and is working on producing short films.
"I'm in a place where I'm much happier, because I don't have the constant scrutiny of selectors coming to watch games," he says.
There is even a sense that the new Zimbabwe might embrace Olonga. In 2001 he released a song, Our Zimbabwe, a collaborative venture with a vision of the inclusive and welcoming country he thought Zimbabwe could become. It was a number one hit in his home country but was effectively barred from the airwaves after Olonga's black armband protest.
While the emblem of Olonga's courage – that black adhesive tape – lies somewhere in his shed, his song is now being widely played again. Olonga himself will sing it at a concert in Zimbabwe later this month.
It will be his first trip back to Zimbabwe, where many of his family remain, since the 2003 World Cup. Only now Mugabe has been ousted does he deem it safe to return.
"It's bittersweet. When I left Zimbabwe it was under a cloud and it was a traumatic separation. A lot of my friends have moved on and left. A lot of the things I planned and hoped to achieve in Zimbabwe effectively ended.
"But if we had the death of democracy in 2003, I would hope that in 10 years' time democracy in Zimbabwe will be alive and well. It sounds cheesy but you've got to do cheese once in a while."
He laughs, and then returns to his new life.
Source - telegraph