News / National
Mnangagwa says western imposed sanctions 'are good'
30 Apr 2023 at 19:06hrs |
Views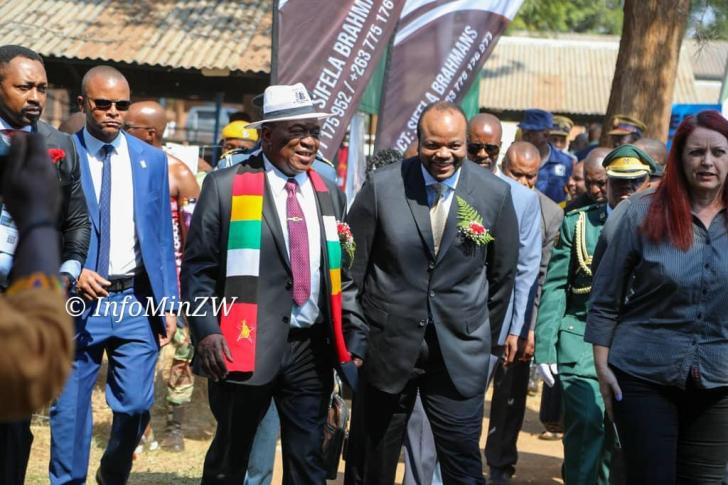 President Emmerson Mnangagwa, a strong hater of western imposed sanctions, on Friday made a tongue-in-cheek admission the measures were "good" for Zimbabwe as they have almost turned the troubled country into an attraction for foreign exhibitors.
He was addressing journalists soon after touring stands at the Zimbabwe International Trade Fair (ZITF) while being accompanied by visiting Eswatini King Mswati III who officially opened the fair.
Mnangagwa felt overwhelmed by the high number of international exhibitors who have graced the country's premier trade showcase.
He said a lot of exhibitors were drawn to the ZITF through curiosity over how a country under sanctions went about its business operations.
"People get excited by sanctions; that is why they come here to see what happens under sanctions," Mnangagwa said.
"In fact, you see that sanctions are very good. Numbers are increasing, increasing, and increasing.
"The Americans are here, the British are here, the European Union is here, what else would we want?
"Everybody is here, so this re-engagement and engagement is bearing fruits.
"You see, perhaps they (international exhibitors) heard that His Majesty (King Mswati) is coming. That's why they are here. In fact, if that is the reason next year he is going to come again."
Mnangagwa said exhibitors had improved from previous years.
"It's better than last year, the quality is better. The displays are fantastic, majestic because His Majesty is here. All the exhibitions we have seen are just majestic exhibitions."
On his part, King Mswati III also said the exhibitions at the fair were impressive.
"I must say that, you know, when I was last here in 1995, there was a lot of change, a lot of development and even for the city, Bulawayo to be here in the trade fair. I'm impressed.
"Even the exhibitors who are here, there are quite a lot more of them than the last time l was here. So, I want to say well done to the people of Zimbabwe."
While delivering his official opening speech, King Mswati III also called on Zimbabwe to work together with Eswatini on economic development issues.
"I wish to extend invitations to the business and trade communities to visit the Kingdom of Eswatini anytime of the year and also during our annual trade fair usually held in August.
"We believe that this will present many opportunities for our people and businesses which will also increase activity trade and tourism between our two countries.
"The prospects of success and growth for our people are limitless. Let us therefore use every chance before us…"
After the end of his official opening remarks, King Mswati also presented awards to exhibitors who had outstanding displays at the fair.
The trade fair opened its doors to the business community from April 25 to 27, where high-level conferences took place.
On Friday the fair was open to the public and is set to close on Saturday.
Source - zimlive