Opinion / Columnist
'Chamisa must first accept my legitimate before talks' insist Mnangagwa - then why are you talking to the west
02 Feb 2019 at 17:14hrs |
Views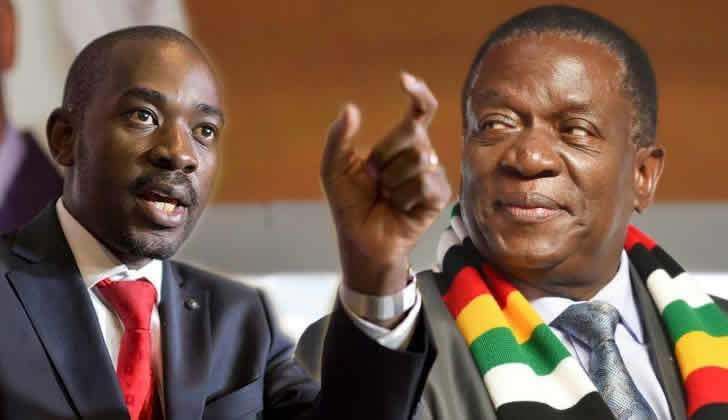 Mnangagwa says he will not talk to MDC Alliance leader, Nelson Chamisa, until the latter acknowledges Mnangagwa as the legitimately elected president.
"I have never refused to talk and that is why after I came into office, you have seen me talking to all people from students, industry, the church, political parties and even traditional leaders. We continue to talk for the good of our country and my door is open. I, however, do not understand how he (Chamisa) would want to talk to me when he claims I am illegitimate. It implies that the talks will be illegitimate. I don't want to see myself exchanging words with Chamisa, I don't want to sink to that level. I leave all this to you," said Mnangagwa.
This is just nonsensical.
If Mnangagwa is refusing to talk to Chamisa because the latter has said Mnangagwa was illegitimate. Then why is Mnangagwa talking to the EU, the Americans and many, many other nations? These nations have all condemned last July's elections too and have never accept this Zanu PF regime as legitimate.
Mnangagwa and Finance Minister Professor Mthuli Ncube have been out begging the West, especially the Paris Club, IMF and WB, for financial assistance but have returned empty handed. Zimbabwe is a pariah state ruled by corrupt and vote rigging thugs and no investors want to deal with pariah states!
As long as Zimbabwe remains a pariah state there is not going to be any meaningful economic recovery, period.
In his boastful moments Nelson Chamisa has claimed that he has the key to unlock Mnangagwa's illegitimacy and the economy. This was nothing more than the proverbial frog claiming to put out the forest fire with its punny fart!
Political legitimacy is derived from winning the majority votes in an election that is free, fair and credible. How anyone would judge last July elections as a free, fair and credible electoral process beggars belief. The regime denied 3 million Zimbabweans in the diaspora the vote; compared to 2.4 million Mangagwa claims voted for him. ZEC failed to release something as basic as a verified voters' roll for Pete's sake!
We are to assume Chamisa will sweep all these blatant vote rigging antics under the carpet, cleanse the electoral process of all its flaws and illegalities, and declare the illegitimate Mnangagwa legitimate. Who is Chamisa to do all that! "Chamisa chiyi panyama yehuku!" (What part is Chamisa on a chicken!) as one would say in Shona.
There will be no meaningful economic recovery in Zimbabwe until the nation ends the curse of rigged elections and pariah state. None! If Mnangagwa believes Chamisa can wave his magic wand and lift the curse then he must even more naive than he looks!
When Mnangagwa rigged last year's elections he was cocksure he would go on to revive the Zimbabwe economy. It is now as clear as day that instead of meaningful economic recovery the nation's economy is sinking deeper and deeper into the abyss. Worse still, it is also as clear as day that Mnangagwa is resorting to the use of brute force to silence dissent and all those crying about the economic hardships.
Zimbabwe's economic situation with unemployment at 90%, 3/4 of the population living on US$1.00 or less a day, etc. is unsustainable. And no amount of brutal repression is going to stop people demanding meaningful change. Zanu PF cannot expect people to suffer and die in silence like sheep in a slaughter house.
The most rational, peaceful and quickest way to end Zimbabwe's economic and political nightmare is for Zanu PF to step down. The regime rigged last July's elections, it is illegitimate and should stop holding the nation to ransom for even one day longer!
There is nothing to talk about with Mnangagwa and his junta friends; they should just step down.
Chamisa and his MDC Alliance friends must step aside too. They have had many golden opportunities to implement the democratic reforms which would have end Zanu PF's reign of terror and they have wasted them all.
The nation needs the political space to appoint an interim administration that will be tasked to implement all the democratic reforms agreed at the onset of the 2008 GNU. The administration will lay the democratic foundation for the free, just and prosperous Zimbabwe the nation has been dying for all this years.
All articles and letters published on Bulawayo24 have been independently written by members of Bulawayo24's community. The views of users published on Bulawayo24 are therefore their own and do not necessarily represent the views of Bulawayo24. Bulawayo24 editors also reserve the right to edit or delete any and all comments received.