Opinion / Columnist
'Mnangagwa lured 2018 voters with war tales' - damned lie, he rigged the election
29 Apr 2019 at 07:43hrs |
Views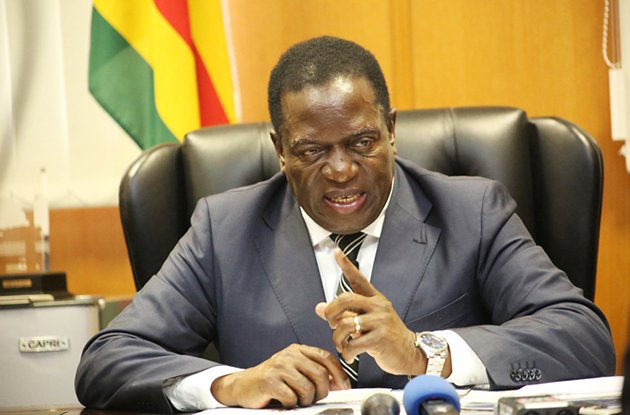 As Zimbabwe's economy sinks deeper and deeper into the morass the tension and panic in Zanu PF circles is palpable. The regime rigged last year's elections and was super confident that it will rig the economic recovery, especially after the appointment of Professor Mthuli Ncube as Minister of Finance.
Professor Ncube, it must be said, has one of the most impressive CV of any Finance Minister in the world. Add to this his gift of the gab; he assured everyone he will stabilise the economy, have investors and IMF and WB lenders back doing business in Zimbabwe in no time, etc. He had Mnangagwa and the whole Zanu PF ruling elite eating out of his hands!
Sadly, for the regime and the nation at large, Minister Ncube has failed to pull the rabbit out of the hat, the economic recovery has not happened. The flood of investors and lenders has never happened, the economy is dogged by shortage of foreign currency, fuel, food, medicine, etc.
Professor Ncube has failed to bring stability in the local RTGS$ currency which was valued at 1:1 to US$ beginning of the year and is today trading at 5:1. The rapid devaluation of the RTGS$ has forced the prices of goods and service have soar, a situation made worse by the fact that the country now imports 70% of its basic needs.
In January President Mnangagwa announce 120% increase in the price of fuel triggering public protests. The regime silenced all dissent by using brute force; hundreds of thousands were beaten and/or raped, thousands were arrested and 17 were shot dead. Last week the price of bread increased 70% and the price of such services as internet soaring by a staggering 300%!
These soaring prices are happening in a country in which ¾ of the population was living on US$30 or less per month at the beginning of the year! Of course, these people are much worse off now. There are Zimbabweans out there who are dying because they cannot afford to buy medicine worth US$5 per month!
The human suffering and unnecessary deaths brought about by the economic meltdown is heart-breaking. What is more heart breaking given this is a man-made problem in that the root causes of the economic meltdown are the 39 years of gross mismanagement, rampant corruption and the lawlessness which have made it impossible to do business in Zimbabwe.
What makes the situation intolerable is that Mnangagwa and his Zanu PF rigged last year's elections only to drag the nation deeper and deeper into this hell-on-earth! Zanu PF does not have the people's democratic mandate to govern the country!
The economic situation is Zimbabwe today is socially, politically and morally unsustainable. The reality that the economic situation is unsustainable has dawned on the Zanu PF cronies, hardliners and their sycophantic propagandists and apologists alike. The regime is at a loss as what to do to revive the economy hence the political tension and panic in the party. In a desperate effort to hang on to power Zanu PF member are now shooting from the hip!
"I hear that Nelson "Wamba" Chamisa is going into the MDC congress uncontested after all the MDC provinces nominated him for their party Presidency. His chances are much better and brighter in 2023 because Emmerson Mnangagwa and his so-called "New Dispensation" are spectacularly failing to deliver on their electoral promises that they dished out in 2018," wrote Hopewell Chinono, a well-known Zanu PF apologist.
What Chinono is hoping to do here is draw to attention away from the worsening economic situation and from the fact that Zanu PF is illegitimate by presenting as fait accompli. He wants us all now move on and think of next elections in 2023.
Chinono, like everyone else in Zanu PF know that the only viable solution to ending Zimbabwe's economic mess is for the country to implement the democratic reforms designed to end the curse of rigged elections and end the Zanu PF corrupt and tyrannical rule.
Finance Minister Mthuli Ncube has been trying to deliver economic recovery but leave the corruption, bad governance, etc. untouched. An impossible task! Indeed the Professor has just turned out to be one of those idiotic and egotistic savants.
As long as Zimbabwe remains a pariah state ruled by corrupt and vote rigging thugs there will be no meaningful economic recovery.
Since Zanu PF cannot be trusted to implement the democratic reforms, as the five years of the last GNU proved, to the only way forward is to pressure Zanu PF to step down. After all, the regime rigged last year's elections and therefore has no mandate to govern. It is illegitimate.
"There will be more than one million new voters on the electoral roll in 2023, these voters were all born after 2004.Those kids have no interest in war tales or hondo yeminda stories that have been used by Robert Mugabe and his subsequent successors to lure the voters!" continued Chinono.
"They want a better and worldly future that secures them jobs, a solid and functioning public health care system and a predictable and solid standard of living.
"It would be ridiculous for anyone of that age to expect an 81-year-old leader to unveil that brighter future for them when that very leader would have failed to deliver when he had the support of the whole world as President Mnangagwa did. That is why Chamisa stands a better chance of dethroning the ruling party from power if indeed ZANUPF makes the fundamental mistake of letting President Mnangagwa run as their candidate again in 2023."
We were told before last year's elections that 60% of voters were the young generation, for example, all keen as mustard for real political change. They did not stop Zanu PF securing a 70% landslide victory. The opposition was warned not to participate in the elections without first implementing the reforms designed to stop Zanu PF rigging the elections; they did not listen.
Zanu PF has managed to stay in power for the last 39 years because it rigged elections. The party's vote rigging juggernaut has total control of the state institutions and is well funded from the wholesale looting of the nation's resources. The regime's iron grip on power it is bolstered by its unlimited use of brute force using war veterans, the Police, Army and CIO to subdue the nation into subservient silence.
Zanu PF's carte blanche powers to rig elections are formidable and we must stop listening to paid quislings like Chinono telling us lies and damned lies that there can ever be any meaningful democratic change without first implementing the democratic reforms.
If Zanu PF is allowed to stay in power till 2023 then we can be certain of one thing, the party will see to it that no meaningful reforms are implemented and it will then go on to blatantly rig the 2023 elections.
"Last year Mnangagwa lured voters with liberation war tales!" A damned lie! He blatantly rigged the elections and, unless we force him and his illegitimate regime to step down, will do so again in 2023
All articles and letters published on Bulawayo24 have been independently written by members of Bulawayo24's community. The views of users published on Bulawayo24 are therefore their own and do not necessarily represent the views of Bulawayo24. Bulawayo24 editors also reserve the right to edit or delete any and all comments received.