Opinion / Columnist
Fear stricken Mnangagwa holds two Gukurahundi meetings within three months
28 Jun 2019 at 11:03hrs |
Views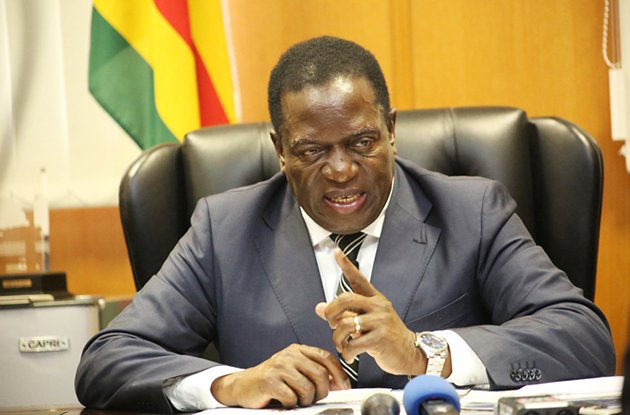 MLO notes with interest that the President of Zimbabwe Emmerson Mnangagwa has visited Matabeleland Statehouse in Bulawayo twice within a space of three months this year. His first visit was in March to meet an unknown organization by the name Matabeleland Collective to discuss Matabeleland genocide, and we hear that today he will be in town again, this time to meet Matabeleland chiefs over the same issue. Its clear that Matabeleland genocide has come back to haunt the perpetrators.
Is the genocidist and current leader of Shona supremacism aware that Matabeleland genocide is a political issue that needs a political solution? Did he consult the chiefs or anyone in Matabeleland before he and Mugabe deployed Zimbabwe National Army 5th Brigade in the 80s to murder more than 40 000 innocent Matabele civilians?
As MLO we do not compromise on our dead. We will never forget or forgive. There are only two solutions that can bring permanent closure to Matabeleland genocide and animosity between Matabele and Shona people. That is, compensation of US$ 100 billion for Matabeleland genocide and the restoration of Matabeleland as an independent and sovereign state as per the Notice of Demand for Restoration of Matabeleland State delivered to the office of the President of the Republic Zimbabwe in 2015 and follow up letter thereof addressed to President Mnangagwa this year by MLO President Cde Paul Siwela.
For our independence and our innocent relatives who were murdered in cold blood we are prepared to shed blood of those who resist our restoration agenda. We will never accept mere apology without compensation and Matabeleland independence from the perpetrators of Matabeleland genocide.There are people who believe the apology will be sufficient to bring closure to Matebele genocide how misguided are they ! White farmers have been paid some compensation for their loss of farms and Matebeles are expected to content with apology.
NO apology will be acceptable and meaningful without US$100billion compensation and the restoration of Matebeleland State along the Jameson Line. Emmerson , if you cant meet the above 2 conditions, keep your apology to yourself, we dont need it.
Mnangagwa and the Shona supremacist system that he leads will learn that running around Matabeleland consulting an unknown organization like Matabeleland Collective and Chiefs concerning a political problem is a waste of time and money. People of Matabeleland who bear the scars of oppression and festering wounds of Matabeleland genocide are breathing heavily with fury and anger and determined to free themselves through whatever means possible including the use of armed struggle.. Surely, sooner or later the Shona supremacist shall see what the fury and anger that they are courting in Matabeleland will cause. We shall strike fear into their hearts.
We know that traitors are now itching to sellout the dead and the living in order to gather small heaps of bread crumbs in Harare. Some have betrayed themselves by way of speech and some through their actions. Our Central Intelligence Bureau ie CIB is monitoring them and sanctions will follow is due course.
You won't be as lucky as the likes of Enos Nkala who got away with murder. The political dynamics in Zimbabwe and the world have changed drastically. Those who were once friends, are friends no longer and those who were enemies, are enemies no more. Where and when we count enough bullets for our enemies we shall count enough necklaces for you.
No revolution in any part of world has ever shown kindness to sellouts. Dont be part of statistics.
Izenzo kungemazwi!
Israel Dube
MLO Secretary for Information and Public Affairs
Source - Israel Dube
All articles and letters published on Bulawayo24 have been independently written by members of Bulawayo24's community. The views of users published on Bulawayo24 are therefore their own and do not necessarily represent the views of Bulawayo24. Bulawayo24 editors also reserve the right to edit or delete any and all comments received.