Opinion / Columnist
'We have learned GNU lessons' insist Chamisa - yet participating in flawed elections for umpteenth time!
22 Mar 2023 at 07:30hrs |
Views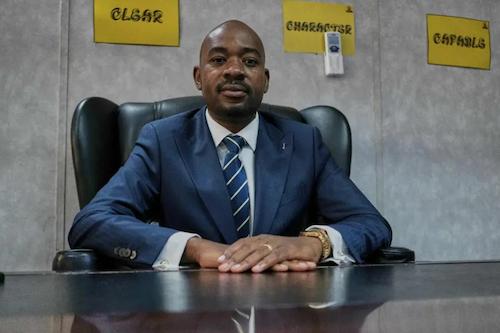 It is bad enough that we should find ourselves ruled by corrupt, incompetent and murderous thugs whose only priority is to secure absolute power and retain it at all cost. Of course, they know that in securing absolute power for themselves they have ridden roughshod over the ordinary people's freedoms and rights, hopes and dreams. They can see the consequences of Zimbabwe as a failed nation in the country's failure to provide basic services such as clean running water, education and health care. Millions of ordinary Zimbabweans, 49% of the population and rising, are living in abject poverty.
President Mnangagwa and his Zanu PF ruling elite and their cronies can see the tragic human suffering brought about by their failed leadership and they don't care!
What makes our situation a double tragedy is that the men and women the people have entrusted the important task of ending the Zanu PF dictatorship, the MDC/CCC opposition, have not only turned out to be corrupt and incompetent but, to crown it all, incapable of learning from their own mistakes. MDC/CCC will never ever deliver the democratic changes the nation has been dying for because even when would say "Surely they must have finally learned the lesson!" They have again and again shown that they have not learned.
The primary purpose of the 2008 to 2013 Government of National Unity (GNU) was to implement the raft of democratic reforms and dismantle the Zanu PF dictatorship including the regime's carte blanche powers to rig elections. Of course, the task of implementing the reforms was left to Morgan Tsvangirai and his MDC friends, naturally. One did not expect Zanu PF to reform themselves out of office.
It is one of the darkest episodes in Zimbabwe's history that not even one token reform was implemented in the five years of the 2008 to 2013 GNU. It has been ten years now since the end of that GNU with the country well and truly stuck because we cannot remove Zanu PF from offices because the party still enjoys its draconian powers to rig elections, the need for a new GNU so we can implement the reforms would be obvious to all, especially to the errant MDC/CCC leaders.
"We learnt our lesson, there won't be any GNU before or after elections. Let us win resoundingly in local authorities where we will restore Executive Mayors, let's have parliamentary majority in the coming elections," replied Nelson Chamisa when the subject of a new GNU was raised.
"As a new political party, we performed exceptionally well in recent by-elections clinching 89 out of 132 wards which were being contested while for MPs we managed to win 19 out of 28 up for grabs. That was an indicator we can win all the way up to president."
Here we go again. How can we make any meaningful progress if we cannot even agree on historic facts, reality and truth!
The watershed 2008 elections established that Zanu PF had captured and corrupted the country's state institutions such as ZEC, the Police, judiciary, etc. They were Zanu PF departments in all but name as they were now reprogrammed to keep Zanu PF in power at all costs. The 2008 to 2013 GNU offered the nation the golden opportunity to sever the umbilical cords giving Zanu PF ownership and control of ZEC, etc.
It is infuriating that Chamisa claims to have learned the GNU lessons when he has not:
1) Chamisa and his MDC friends sold out by failing to implement even one token reform when they had the golden opportunity to do so during 2008 to 2013 GNU.
2) Ever since the GNU debacle, they have dragged the nation into flawed elections only to give Zanu PF legitimacy, by falsely claiming to have strategies to win these Zanu PF Mafiosi rigged elections. They are at it again this year; they claim they will win big elections in which there are no verified voters' roll, Zanu PF has cherry picked to deny three million Zimbabweans in the diaspora the vote, etc. Zimbabwe cannot afford to grant Zanu PF legitimacy and perpetuate the dictatorship even another five more years.
3) Chamisa and company have been too corrupt and incompetent to implement even one democratic reform but we can be certain they will appreciate the services of the corrupted ZEC officials whose loyalty is not to Zanu PF per se but to the highest bidder! Even if CCC or some other party was to end the Zanu PF dictatorship this year or in the future; without implementing the democratic reforms the spectre of rigged elections will hang over the nation like the sword of Damocles.
There is a mountain of evidence already than Zanu PF is rigging the 2023 elections, to stay in power in the face of the worsening economic meltdown, President Mnangagwa has no choice but to rig the elections. Still, the mountain of evidence of the rigging is now so big he cannot ignore it nor can SADC.
If SADC refused to endorse Zanu PF's election victory in these 2023 elections and thus grant Zanu PF political legitimacy, as they did in 2008; then Zimbabwe will need a new GNU arrangement. An outcome President Mnangagwa dreads because even he must know that whoever presides over this new GNU, be it SADC or the UN, they will want the democratic reforms implemented without failure this time.
The number one lesson of the 2008 GNU that everyone including Zanu PF ruling elite have learned is that it was a treasonous act of betrayal to fail to implement the democratic reforms. It is not surprising that Chamisa and company have either failed to learn the lesson and/or are in denial. Not that it matters; MDC/CCC have proven they are corrupt, incompetent and utterly useless; they are now irrelevant.
Chief Fortune Charumbira's suggestion that Zanu PF and CCC should meet and agree to cancel 2023 elections and go into a GNU arrangement is not as flippant as it first appears. Zanu PF would rather mark its own homework, condemn the 2023 elections and not have to wait for SADC leaders to do it. By pre-empting SADC's judgement Zanu PF can claim the election is still a Zimbabwe internal affairs matter into which the regional body should play no part. Zanu PF will have a fighting chance to cherry pick GNU partners and, most important of all, to make sure at the end of the new GNU few, if any, reforms are implemented.
To a simpleton like Chief Charumbira if Mnangagwa and Chamisa agreed cancel elections and go into a GNU then that is the end of the matter. President Mnangagwa must know by blatantly rigging these elections was running the risk of being caught and called out as happened in 2008. But for him to brazenly cancel the elections, just weeks before the elections, will leave no one in any doubt he did so because he knew he going to lose! Not even ANC government that has vowed "to stop regime change in Zimbabwe!" would want to endorse such a kamikaze act political banditry.
Zanu PF has held Zimbabwe to ransom for 43 years and counting. No one has the divine right to rule, given political will and resolve the Zanu PF dictatorship can finally be dismantled. Enough is enough!
Source - zimbabwelight.blogspot.com
All articles and letters published on Bulawayo24 have been independently written by members of Bulawayo24's community. The views of users published on Bulawayo24 are therefore their own and do not necessarily represent the views of Bulawayo24. Bulawayo24 editors also reserve the right to edit or delete any and all comments received.