Opinion / Columnist
Uebert Angel will neither be prosecuted nor charged!
24 Mar 2023 at 03:52hrs |
Views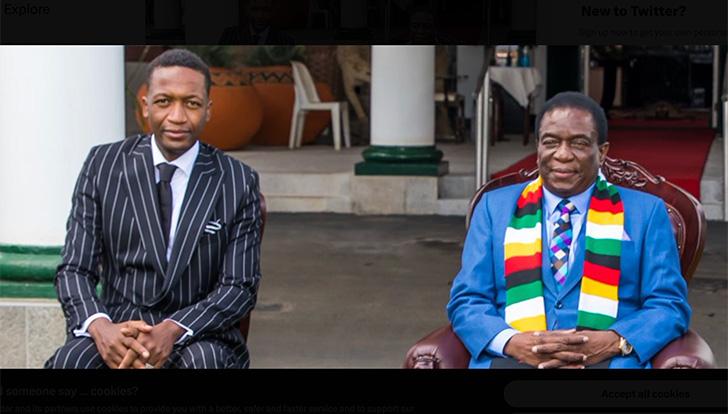 Dear Bulawayo 24 News Staff Writer:
Upon reading, your article entitled: 'Mnangagwa throws Prophet Uebert Angel under the bus,' I went to my dictionary to verify the meaning of the idiomatic expression. Uebert Angel was never and will never be thrown under the bus because the truth is, he was not and will not be. Period, or Full Stop, whichever version you prefer. Upon reading your opening sentence in your article, which reads, "PRESIDENT Emmerson Mnangagwa has reportedly thrown under the bus his ambassador-at-large, Uebert Madzanire, alias Uebert Angel, after it emerged yesterday that he is under investigation for alleged money laundering," my first reaction was, "That is complete nonsense!". In reading your article, I quickly realized that you have one and only one agenda: to hoodwink gullible readers into thinking that the corrupt ZANU PF government was already taking action against those mentioned in the Al Jazeera exposé. WHY NOW? (a) Why your article now? (b) Why is the corrupt ZANU PF government doing something about these corrupt individuals now?
Firstly, I am not a writer like you, so please do not judge my English--a colonial language I detest. Throughout history, imperialists have used English to commit linguistic and cultural genocide. Please evaluate this piece based on the issues I raise in response to your article. I wish I could have written in my native language, as I could have expressed myself better. However, I will not let this colonial language stop me!
Staff writer, in your article, you never bothered to ask the following questions:
1. Why now? Why is the incorrigible ZANU PF government sharing with us now that they have been investigating Uebert Angel?
2. Who controls the courts?
3. Will Uebert Angel be charged?
4. In the unlikely event that Uebert Angel is charged, have you forgotten about the 'catch and release'?
5. Why was Uebert Angel chosen as the ambassador at large? Mnangagwa's fascination with churches. Let us briefly look at each of these questions. First, why now? Do you, in your right senses, Staff Writer, believe this is true? Your article states, "March 21, 2023, Insurance and Pensions Commission (Ipec) chairperson Grace Muradzikwa exposed the secret government probe into Angel and MacMillan's financial affairs". This is first-class nonsense, Staff Writer. We are not told when the secret investigation began. If the investigation was secret, why tell us about it now?
Regarding who controls the courts, Staff Writer, you should have remembered or deliberately forgotten ( selective amnesia) the question of who owns the courts. You know who does, right? I will remind you of a few prominent cases to illustrate the point. Staff Writer, remember how:
1. Emmerson Mnangagwa got into power.
2. Chief Justice Luke Malaba retained his position past retirement age.
3. Chief Justice Luke Malaba first suspended Justice Erica Bere, then fired by Mnangagwa after she gave Job Sikhala bail in one of his many unfounded accusations.
4. Our dear brother Job Sikhala is persecuted using the courts.
5. Henrietta Rushwaya was freed for lack of evidence, yet she was caught with 6kg of gold valued at £280,000 in her handbag! She dared to demand her gold back! (
https://www.thezimbabwemail.com/law-crime/henrietta-wants-her-gold-back/
)
I will be very brief about the third question: Staff Writer, there is no chance Uebert Angel will ever be prosecuted. However, in the unlikely event that he is charged, there is the 'catch and release' policy. The 'catch and release' list is long; I will mention a few: Prisca Mupfumira; Sir Wicknel Chivayo (as he would like to be called); Henerieta Ruswahya; Ignatios Chombo; Mayor Wadyajena; Mike Chimombe (on bail); etc.
Now let us look at why Uebert Angel was appointed ambassador-at-large with much fanfare. Clearly, his primary role was to move the loot freely with little to no suspicion. To ease his movement, he has a diplomatic passport. It would be difficult to suspect him of racketeering due to his position as a man of God. Mnanganwa's fascination with churches and blasphemy may have also influenced Uebert Angel's selection. Through his fascination with churches, perhaps Mnangagwa will also one day see the light, just as Saul saw the light on his way to Damascus.
One last thing before I sign off: Knowing my fellow Zimbabweans, timid and good-for-nothing cowards, this Al Jazeera exposé won't lead to any action beyond WhatsApp discussions!
Cheers,
Tawandah Mudzingwah
Source - Tawandah Mudzingwah
All articles and letters published on Bulawayo24 have been independently written by members of Bulawayo24's community. The views of users published on Bulawayo24 are therefore their own and do not necessarily represent the views of Bulawayo24. Bulawayo24 editors also reserve the right to edit or delete any and all comments received.