Search / Aimz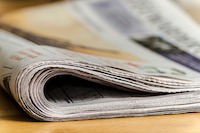 Zimnat Asset Management's Farai Gwaka was elected chairman of AIMZ for the coming year, taking over from ABC Asset Management's Jubelah Magutakuona, who has held the post for two terms. H...
Published: 15 Dec 2020 at 11:30hrs | 297 | by Staff reporter
Like most today's mothers juggling the act of bringing up children in a maze of dizzying modernity, whirlwind technological advancements, illegal substances and intoxicating influences both global and...
Published: 26 Nov 2017 at 09:54hrs | 2134 | by Maggie Mzumara
Last week at the launch of the voter registration exercise, chairperson of the Zimbabwe Electoral Commission (ZEC), Rita Makarau, knelt before President Robert Mugabe.Generally speaking, in ot...
Published: 01 Oct 2017 at 10:04hrs | 372 | by Maggie Mzumara
Load More Stories