News / National
Business cries foul over Mnangagwa's 'looters' list
21 Mar 2018 at 05:31hrs |
Views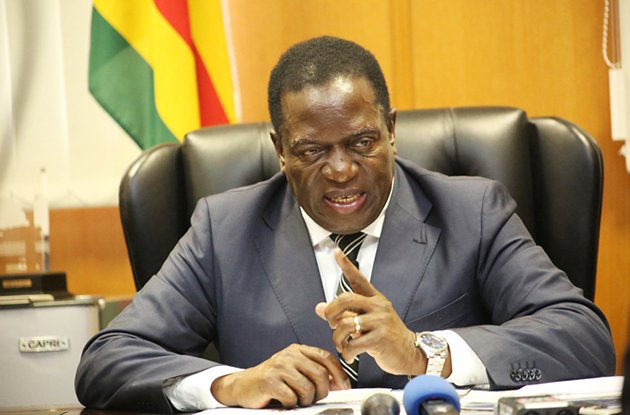 BUSINESS organisations yesterday expressed displeasure over the inclusion of some of their members on the list of foreign currency externalisers.
On Monday, President Emmerson Mnangagwa named and shamed individuals and corporates who failed to heed his call to return externalised funds amounting to close to $1 billion. The individuals and companies were exposed after the three-month moratorium expired last Friday. However, some business leaders and affected corporates have reacted in shock with others blaming their inclusion on the shortcomings of regulatory bodies like Zimra citing alleged delays in relevant documentation clearance.
Confederation of Zimbabwe Industries (CZI), which represents the country's manufacturing sector, was not amused. CZI Matabeleland region chapter president, Mr Joseph Gunda, said following the publication of the list of foreign currency "looters" they have received reports from some members who had already submitted their acquittals to the Reserve Bank of Zimbabwe.
"We are still examining that list. There are some of our members that have already submitted their acquittals to RBZ but when the list of externalisers came out, they were still included," said Mr Gunda.
"We also want to get a comprehensive report on how many of our members have been affected after, which we will then find a common position to get the matter addressed."
Mr Gunda said the publication of some firms who were not part of a list of corporates involved in the externalisation of funds was detrimental as it damages their image and reputation in business. Some of the executives of the affected companies highlighted that the damage that has been done to them in the international business arena was incalculable due to delays in over a month by the Zimbabwe Revenue Authority in issuing clearing documents.
Fumed one company executive: "Can you imagine that our company is in the national press visible to the whole world through internet that we are criminals who are acting illegally by exporting foreign currency and not receiving raw materials paid for!
"The raw materials are in our CMR store and we have invoiced our manufactured garments already to Edgars and Jet using this cloth. The time and effort spent on this by us in extraordinary with every department imaginable asking us to write letters asking for extensions to be submitted to RBZ to be received by people in RBZ earning high salaries telling me that we are a high cost country — but we are a high inefficiency country."
Some business leaders accused Zimra of letting businesses down citing alleged inefficiencies in the clearance process.
"We are still paying off the loans we took out to cover those losses. This is very serious and we are battling to survive with these inefficiencies," fumed the official. The Zimbabwe National Chamber of Commerce (ZNCC) has also voiced its concern over the list.
"It's sad, I am on the list yet the machines I imported are still at the border. We have been applying for extension but our banks and the central bank are letting us down. How on earth can someone externalise $11 000," said a ZNCC member who declined to be named.
Another construction operator said his firm was put on the list after the bank deposit but failed to clear the balance resulting in delays in shipment of equipment by 30 days.
The official said they applied for extension pending approval for final balance, which was approved but got shocked to be named among thieves and looters.
The companies and individuals who externalised the funds were classified into three categories.
There are those that externalised forex through non-repatriation of export proceeds, institutions that exported cash for imports but did not deliver their imported products and funds that were transferred to foreign banks in cash under false circumstances.
A moratorium to return the looted resources began on December 1 and ended at the end of last month before President Mnangagwa extended it by two weeks on March 3.
Source - chronicle