News / National
Palestinian Embassy In Solidarity With Citizens Against Economic Sanctions
01 May 2023 at 19:38hrs |
Views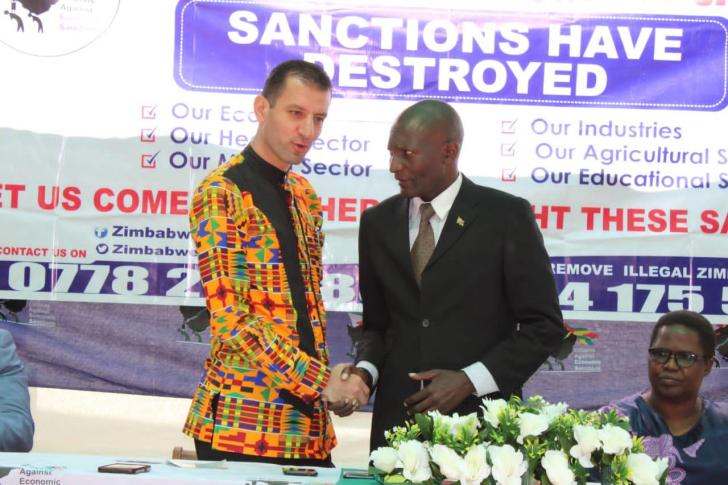 Palestinian Embassy on Saturday joined Citizens Against Economic Sanctions (CAES) in Harare in launching campaign against economic sanctions for Harare province.
Sanctions which were imposed by Britain and America to Zimbabwe has caused a lot of sufferings to the people of Zimbabwe with the poor facing great impact. Ordinary people of Zimbabwe came together and formed an organization called Citizens Against Economic Sanctions (CAES) which has the objectives of advocating that Britain and America should lift down the illegal sanctions imposed to Zimbabwe.
On Saturday the Executive Director for (CAES) Mr Martin Zharare invited the Palestinian Ambassador to the campaign launch which was held at Girls High School in Harare. Ambassador for The State Of Palestine spoke vividly about illegal sanctions imposed to the people of Zimbabwe.
"It's a great fortune to be an Ambassador for the Palestinian people to Zimbabwe, Zimbabwe's liberation struggle was similar to ours in Palestine when Zimbabwe fought the Umkhonto weSizwe apartheid government and Zimbabwe did not tire until they finally won their land against the British colonizers " said Ambassador Dr Tarmer Almassri.
"Jews migrated from Europe to Palestine and we received them as our guests, in few months time they started to establish military bases assisted by the Western countries especially Britain, today as I speak Israel occupying forces which were assisted to infiltrate Palestine by these so called world superpowers Britain and America have killed, arrested and occupied our land illegal " added Ambassador Almassri.
"Jesus was born in Palestine and all the prophets came to see him there in a holly land but unfortunately now my country is a witness of the absence of justice and peace perpetrated by the West. Today in solidarity with people of Zimbabwe to launch the campaign against illegal sanctions from the same client, the West," said Ambassador Dr Tarmer Almassri.
"As Zimbabwe is heading for 2023 harmonized elections, as diplomats we do not interfere with elections and nobody should interfere especially the western countries. They should leave Africa deal with their affairs, nobody is allowed to give views from other capitals, they should keep away from Zimbabwean borders. These elections shall be the best ever since and people of Zimbabwe should maintain and guard against its hardly won independence," concluded Ambassador Almassri.
Source - Desire Tshuma