Opinion / Columnist
Mnangagwa another chief 1979 Gukurahundi implementing agent
26 Nov 2018 at 18:10hrs |
Views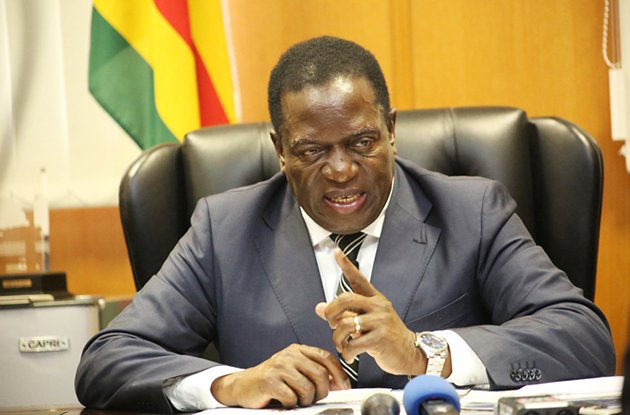 Mthwakazi Republic Party wants to categorically register it's disgust of Mnangagwa's controversial rise to power through a coup, a scripted coup that has managed to deceive the entire world as an internal gorverment secession process.
This coup is clearly not against Mugabe who is an obedient accomplice to this event, but to the reality of the evident prospect of change.
We know, without any shade of doubt that Mnangagwa is another fresh dictator who has been afforded an opportunity to preserve the Mugabe legacy of oppression. As a democratic movement, we are against the precedence set in Zimbabwe of leadership being appointed by the army, which is consequential to constitutionalism and democracy.
The constitution clearly dictates that vice President Mphoko should have taken over as the interim president since he was the only substantive vice president. However, the contrary has happened due to the fact that the people of ZANU PF and the Shonas at large cannot submit under Ndebele leadership as enforced by the 1979 shona grand plan.
We witness today, a common man, Mnangagwa, after having been reduced to a mere party member two weeks ago, coming back to take over the throne. Thus, the highest level of tribalism in practice. The Ndebele leaders have been systematically relegated to second vice president. What nonsense!!!!
Mnangagwa, who was the minister of State security guring the Gukurahundi massacre believes in a one party and brutality, just like his predecessor.
The army has always been central in the execution of the Zanu PF's one party state policy. In Mnangagwa's reign as Defence minister, the army was used to brutalised people and compel them to support ZANU PF. The truth is, if Mnangagwa was not chased away by Mugabe two weeks ago, he was not going to move out ZANU PF. This man also believes in belittling other people to maintain his power rather than being policy driven, as seen in his direct involvement in the Matobo ARDA saga.
We believe that, the problems of Mthwakazi are not attributable to an individual, but are systematic. As a party we are not against individuals but we are against the system. In 1980 when the British controversially handed power to Mugabe people celebrated like today including the whole world and what happened afterwards is for all to attest.
As a politician, I strongly believe that Britain and her allies are as intimately involved in the rise of Mnangagwa as they were in the rise and the fall of Mugabe. I also believe that, the British indirectly or directly funded gukurahundi because they disliked Ndebeles since the 1893 gadade war against the Imbizo of Lobengula. As Mthwakazi, we continue to notice the underhand contribution of the British government in the mess we find ourselves in. The silence of the Britain on the blatant shona hegemony against the Ndebeles is very worrying. What a shame on a country that claims stewardship of democracy. Is this democracy? No wonder there is no peace in this world. The attitude of our former colonial masters and the West is not helping in alleviating war and turmoil in this world.
As Mthwakazi we still cry for freedom and the justice of our people who died, and are still dying painful deaths. We say we will not rest until that dream is realised.
For Peace and Justice in our lifetime
Hloniphani Ncube (MRP Secretary for Legal Affairs, Policy and Strategy)
Please donate!
If Bulawayo24.com has helped you, please consider
donating
a small sum to help cover the costs of bandwidth. Anything you can provide is appreciated, thanks!
Donate with PayPal
Source - MRP
All articles and letters published on Bulawayo24 have been independently written by members of Bulawayo24's community. The views of users published on Bulawayo24 are therefore their own and do not necessarily represent the views of Bulawayo24. Bulawayo24 editors also reserve the right to edit or delete any and all comments received.