Opinion / Columnist
Unsettled Chamisa spies on all Matabeles in the CCC top leadership
27 Feb 2023 at 14:41hrs |
Views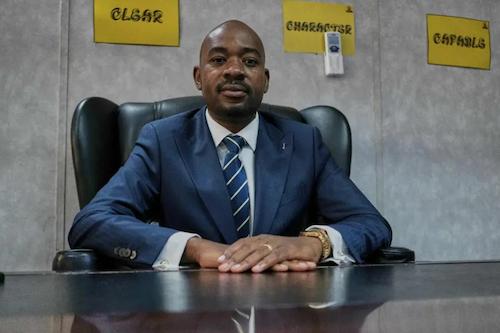 Many people in Zimbabwe were shocked when news filtered that Nelson Chamisa recently acquired intelligence gathering equipment and busy spying on top CCC leaders more than his purpoted ZANUPF rivals. Quite a few people are aware that all Matabele leaders in the CCC are on the list of those pursued by Chamisa spying machinery.
Is it surprising that even Thabitha Khumalo who takes instructions as dry as they are from her pikinini master tops the list of the most spied Matabeles? Not at all.
Shona supremacists will never love or trust any Matabele no matter how loyal and how well they serve the master. They are full of hate and are tribalists by nature. They know very well how Matabele feel in the aftermath of Matabele genocide and continuous tribal discrimination and tribal oppression. They fear the day when those few Matabeles who are still serving their oppressors and worshiping them as their heroes, in the CCC and ZANU PF, will wake up and join Matabeleland Liberation Organisation in calling for the restoration of Matabeleland statehood.
Chamisa is a power hungry pin-pot dictator, Shona supremacist, shameless tribalist and coup maker. At about the same time Rtd General Chiwenga and Mr Emmerson Mnangagwa of ZANU-PF undermined the Zimbabwe constitution and overthrew Mugabe through a military coup in 2017, power hungry Chamisa staged a civilian coup in the MDC T to depose Thokozani Khuphe a Matabele to prevent a Matabele take over. He is aware that his days of criss-crossing Matabeleland at will and spreading lies are but numbered.
He is spying to make sure that the day when Thokozani Khupe, Welshman Ncube and Thabitha Khumalo, only three Matabele top leaders in the CCC, will see the light and start advocating for the independence of Matabeleland, he is at least the first person to know. Chamisa and CCC want to remove ZANU PF government from power but keep the oppressive Shona supremacist system intact to continue the tribal discrimination and oppression of Matabeles in Zimbabwe. Should all Matabeles ditch his party he will lose all the seats he gets through the protest vote from Matabeleland and become politically irrelevant in Zimbabwe.
MLO which maintains a silent presence in all political events and issues that affect our fellow Matabeles in Zimbabwe does not hesitate to delve into the complicated matters and bring the truth to the larger surface so that Matabeles make the right decision.
All Matabeles in the Zimbabwe Shona supremacist political projects (the lost sheep) must wake up and smell the coffee while time still permits. Oppressors will never treat you like normal human beings, they will never give you equal status to Shona people. They are even surprised by your stupidity when you follow them and believe in them no matter how inhumane they treat you.
By Zimbabwe Shona supremacist political projects we mean those political parties in Zimbabwe that are perpetrators or those that secretly or openly support and celebrate Matabele genocide and believe that Matabeles should be wiped out of the face of earth. Those that clandestinely or publicly promote the evil 1979 Grand Plan and believe that survivors of Matabele genocide must forever be marginalised and discriminated against politically, economically, socially, in places of employment and all spheres of life until they submit themselves under Shonas and become their slaves.
They are easily identifiable by their political structures that promote Shona supremacism with Shona people occupying all top positions and Matabeles given inferior positions.
In these Shona tribal clans that trade as political parties, the highest position in the land, that of the president, is strictly reserved for Shonas. This post is a red zone for Matabele people. If by any mistake a Matabele finds himself/ herself in that position or merely campaigns for it, that would spark a fierce tribal war that may result in a serious bloodbath or even genocide.
When Joshua Nkomo of ZAPU contested for the Prime Minister position in 1980 that ignited Matabele genocide which was already planed by Shona supremacist in 1979. More than 40 000 innocent Matabele civilians including women and children were slaughtered. Matabeles did not rise and protect themselves. Had they done that a bitter civil war that would have claimed casualties from both sides (Matabele and Shona) would have erupted.
When late Gibson Sibanda, MDC Vice President then, Welshman Ncube MDC General Secretary and Paul Themba Nyathi MDC Secretary for Information were beaten, stoned, and chased out of Harare in 2011 for taking a stand on the MDC constitution, they did not gather Matabele youth to protect them. Had they done that Zimbabwe would have experienced a bloodbath.
Thokozani Khupe, MDC Alliance Vice President by then, was beaten up by the MDC Alliance youth that attempted to murder her by burning her inside a thatched hut in Buhera did not go for revenge. If she did, the streets would be filled with Matabele and Shona blood.
Shona people are carried away by these Shona supremacist promoted and funded one way acts of terror against unarmed and unprotected Matabeles. They take them as a series of sweet victories.
Will Matabele continue giving the other cheek until the Son of man comes back?
The situation has gotten trickier now that fearless liberation movements like MLO led by Cde Paul Siwela have been formed and already sending shockwaves down the spine of Shona supremacist leaders in Harare.Those who think we are playing child games must ask themselves why the Chief tribalist and Matabele genocide pepetrator, Emmerson Mnangagwa has released many threats against us.
Having the resources including intelligence, political advisors, prophets, witch doctors and cultists on his side, he is well informed that Matabeles will no longer give another cheeck anymore.
Fire will be met with fire! Blood will be paid with blood!
Izenzo kungemazwi!
Israel Dube
MLO Secretary for Information and Public Affairs
Source - Israel Dube
All articles and letters published on Bulawayo24 have been independently written by members of Bulawayo24's community. The views of users published on Bulawayo24 are therefore their own and do not necessarily represent the views of Bulawayo24. Bulawayo24 editors also reserve the right to edit or delete any and all comments received.