Opinion / Columnist
Duke Maplanka to stand as ZAPU UK Chairperson
22 May 2023 at 14:03hrs |
Views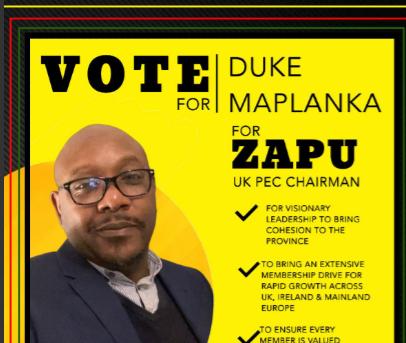 First of all allow me to humbly express my gratitude for the nomination to represent our province as Chairperson.
Our province is unique. Through history and time, seldom has there been a less represented province that contributes so much to our country. Through the toughest of times it is the Diaspora that has been the fiscal foundation that kept Zimbabwe from crumbling. ZAPU must be uncompromising in recognising our role and contribution to our nation. My motivation in standing for this great office is to spearhead an integration with our National structures that gives us a real voice in our party. A real voice in our country. A real voice in the political environment of Zimbabwe.
We really do deserve to contribute to policy formation. The importance of having a solid integration with our national structures is that no one clearly can understand our wants and needs. We want the right to vote. ZAPU must inscribe that right into our manifesto and constitution. How can 30% of an electorate be disenfranchised of their right to vote and nobody bats an eyelid about it. It is surely politically criminal to take our right to vote away. A right acquired by an armed struggle that was led by ZAPU. Our revolutionary credentials make us the party ultimately responsible of making sure that the 5 million or so Zimbabweans living abroad are given their birthright. What we have now in Zimbabwe is active gerrymandering and voter suppression.
We want and deserve clear incentives to invest back home. It makes no sense that we are not given clear and intentional tax relief when want to acquire assets to send them back home. These kind of ideas can only come from us.
A general overview of our Province tells us a strange and sad tale. We have a province that is not engaging in any meaningful political activity. What makes a province with a speculated Million people have so few members? How can we energise hardworking Zimbabweans in UK, Ireland and Mainland Europe to join and contribute in political activity? How can we give an offering as ZAPU that excites the first Diasporan generation and the next making them active participants?
As Chairperson I will make it my priority to carry out the largest membership drive we have ever had and grow our membership and structures. I will make sure that we support every District in their concerted efforts to attract new members. This is my pledge to you. Many of you will be reading this wondering who is Duke Maplanka. My forte professionally is marketing and media. I believe I bring the necessary corporate skills in this regards to put us on a pathway to growth.
I believe we must have a visionary leadership that fully understands and can utilise all the communication channels available to us. We must reach people across different mediums including social media platforms. These platforms can ensure greater participation and give our members a real voice. I plan to run an accessible PEC. There will be no place for elitism. Cohesion is fundamental for the development of our districts and ultimately our Province. Unity was one of the founding characteristics of ZAPU and we must all show that we espouse that value. My appointment to office will mark an end to factionalism and usher in an era of collaborative working. As Winston Churchill once said 'When there is no enemy within, the enemies outside cannot hurt you.'
We cannot shy away from our responsibility to support the ground team financially. While the planned membership drive will yield better finances, we must look at new ways to increase our revenue streams. We must be creative in our approach. We must have events and merchandising that can bring in a steady revenue that our party desperately needs and that our Province is uniquely placed to provide. We must be proactive and move away from being reactive. Being reactive when there is an emergency need for revenue puts pressure on our valued members who are also the breadwinners for their families.
We cannot grow if we cannot be trusted. We must be transparent and accountable to the highest degree. We must show unequivocally that we are a pedigree worthy to carry and wear the emblems of ZAPU. Emblems that bear a history of sacrifice and selflessness. Emblems that carry on their shoulders a future that must see ZAPU back at the helm of leadership of our once great nation. We owe it to the leaders before us that we leave a legacy of leaders to come after us. Our youth are an asset we must tap into. We must be vibrant and vivacious and take ownership of the legacy of ZAPU.
It is with these visions that I humbly accept the nomination and hereby announce my candidacy for the office of Chairperson for the Province and these are my pledges to you.
Source - Duke Maplanka
All articles and letters published on Bulawayo24 have been independently written by members of Bulawayo24's community. The views of users published on Bulawayo24 are therefore their own and do not necessarily represent the views of Bulawayo24. Bulawayo24 editors also reserve the right to edit or delete any and all comments received.