Opinion / Columnist
Chiwenga will never rule Zimbabwe while Karangas watch
12 Mar 2023 at 08:12hrs |
Views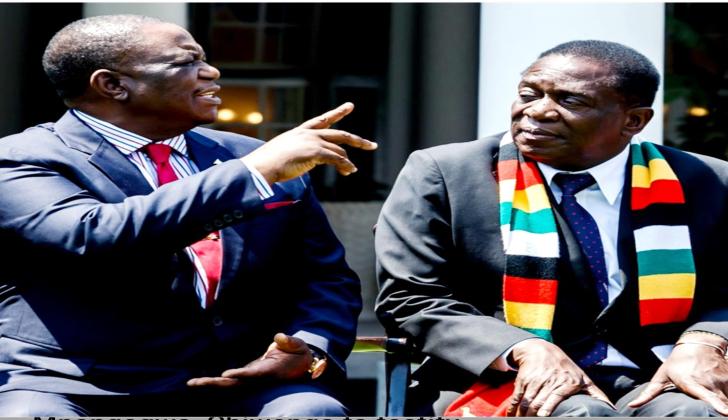 "Dunderhead", is how the biggest Zimbabwe gold smuggling syndicate describes Zimbabwe Vice President Constantino Chiwenga. It is fascinating that even the criminals are aware of this fact. His below par performance in the political field depicts someone who is bereft of political ideas.
It defies logic that Dominic Constantine Constantino Guvheya, Nyikadzino Chinhenge Chiwenga grabbed political power from his fellow Zezuru, Robert Mugabe and generously gave it to Emmerson Mnangagwa on a silver platter. Surprise! Surprise! Chiwenga wants it back but Mnangagwa is not that benevolent when it comes to political power.
For power hungry Mnangagwa who had two failed attempts to power in his book, this was mana from heaven that came through the hands of the kind "pastor" Chiwenga. So it made sense for him to grab it with both hands and protect it.
He knew in his mind that the 2017 military coup of Zimbabwe created two centres of power both in the government and party. Him, fresh from his hiding hole in South Africa, was the weakest and man of the moment, Rtd General Chiwenga was the most powerful man.
He was as well aware that the Zezurus and Korekores that held strategic positions in the security cluster, government and private sector were pillars on which the Zezuru empire stood during the Mugabe era. So it made sense for him to reduce the all powerful so called people's general to his praise singer, clean out all Zezurus and Korekores from positions of power as soon as possible if he were to last a day at Munhumutapa Buildings.
One by one, Zezurus were kicked out from the Zimbabwe National Army, Airforce, Central Intelligence Organisation, Zimbabwe Republic Police, Zimbabwe Correctional Service, Judiciary, government, public sector as well as private sector. They were immediatly replaced by Karangas, members of Mnangagwa's clan or at least Mnangagwa's allies. The lucky ones in the security cluster were simply retired, some were given diplomatic missions in the foreign countries far away from home.
The unlucky ones died mysteriously through poisoning and Covid19 which strangely targeted only Chiwenga's allies.
Among Chiwenga's key allies who died are Rtd General Perrence Shiri former Air Force Chief and Minister of Agriculture, Rtd General Sibusiso Moyo, Coup Announcer and former Minister of Foreign Affairs.
There was Mnangagwa dismantling and destroying Chiwenga's main power base. Chiwenga, the new kid on the block was not even aware of what was happening.
Initially, Haile Mariam Mengistu who advised Chiwenga through the coup and managed his transition from the barracks to the presidency told him to hold the ministry of defence and the vice president position. This, to maintain control over the army and the war vets.
But politically naive Chiwenga went for the poisoned chalice. He accepted the VP position. The very post that was used by Mugabe to kill Joshua Nkomo's political career after he donated his weapons, party and supporters to ZANUPF with the hope of succeeding Mugabe one day. But he died a sad man accused of selling out on Matabele people while Mugabe continued to be endorsed until he was overthrown after 37 years. Chiwenga has fallen into the same trap and faces the same fate.
To make him forget about the VP position, Mnangagwa offered him a dummy in the form of the ministry of health. That was to keep him busy dealing with angry and ever striking doctors and nurses while he (Mnangagwa) made political moves to destroy him.
Like in any other game, in politics you snooze you loose. While Chiwenga was sleeping Mnangagwa used the ZANUPF super majority in parliament to mutilate the constitution and scrap the running mate close. This is exactly what Mnangagwa wanted. To be the only centre of power within the party, ZANU pf, and the country.
He is now in a position to appoint or disappoint his vice president or is it his vice presidents? With all this power, he reneged on the coup agreement and went for the second term. Poor Chiwenga could not do anything but accept bitter defeat and praise Mnangagwa for beating him in a short speech at a congress.
That is not all. His supporters have started singing, "Mnangagwa for life president". Soon the
#pastorsformangagwa
,
#vendorsformnangagwa
,
#girlfriedsformnangwa
and
#smallhouseformnangwa
will join the chorus and it would be game over for Chiwenga. Another Mugabe crisis is brewing. Tribal succession battles to replace old and frail Mnangagwa are cooking.
Too many fingers point at Mnangagwa with regard to mysterious deaths of coup comrades turned rivals. He is also blamed for assassination attempts on Chiwenga and his only surviving ally, Rtd General Rugeje. His name and that of his wife and family members are always mentioned in all big corruption scandals in the country. This could be the reason for holding on to power.
All gates in the security cluster are jealously guarded by Mnangagwa's appointees, mainly Karangas, his tribe, which makes it difficult for Chiwenga to organise another coup.
SADC and AU will not endorse another coup in Zimbabwe as failing to define the Zimbabwe 2017 coup as such inspired more coups in Africa particularly in Mali, Burkina Faso, Guinea and Chad. This is another stumbling block for Chiwenga as the coup is the last option for him as it is now clear that he cannot beat Mnangagwa politically.
Cde Paul Siwela's prophecy has come to pass. He said that after Mugabe is gone, Zimbabwe will be the next Somalia in terms of political chaos and tribal violence. And that Zimbabwe will revert back to its original state when there was no central figure to lead Shona people. Each Shona group was led by its own tribal chief.
You will never find a Matabele contesting the position of 1st vice president let alone that of the President. Those two are strictly Shona positions in Zimbabwe. Any Matabele who may attempt to contest would not be able to make it out of Harare alive. The tribal animals would eat him or her alive.
On going tribal battles within Zanupf and the main opposition MDC/CCC show that Shona tribes have turned against each other. Karangas do not want to be lead by Zezurus. Manyika and Ndaus have just discovered that they are being used as political pawns by both Zezuru and Karanga and the Zezuru refuse to be lead by Karangas. Matabeles have been treated like foreigners in their own country since 1980. More than 40 000 of them were killed in cold blood in a government sponsored genocide, they are calling for the breakaway of Matabeleland from Zimbabwe. The result is a total tribal chaos. The center cannot hold anymore.
Chiwenga is fighting for his real life as he was poisoned and his political life as he is not sure if Mnangagwa will appoint him as Vice President after 2023 harmonised elections.
To Matabeles we say, when your enemies are fighting do not take sides. Take advantage of the chaotic situation and break-away.
Izenzo kungemazwi!
Israel Dube
MLO Secretary for Information and Public Affairs
Source - Israel Dube
All articles and letters published on Bulawayo24 have been independently written by members of Bulawayo24's community. The views of users published on Bulawayo24 are therefore their own and do not necessarily represent the views of Bulawayo24. Bulawayo24 editors also reserve the right to edit or delete any and all comments received.