News / Local
Harare man breaches Mnangagwa security
23 Apr 2023 at 07:49hrs |
Views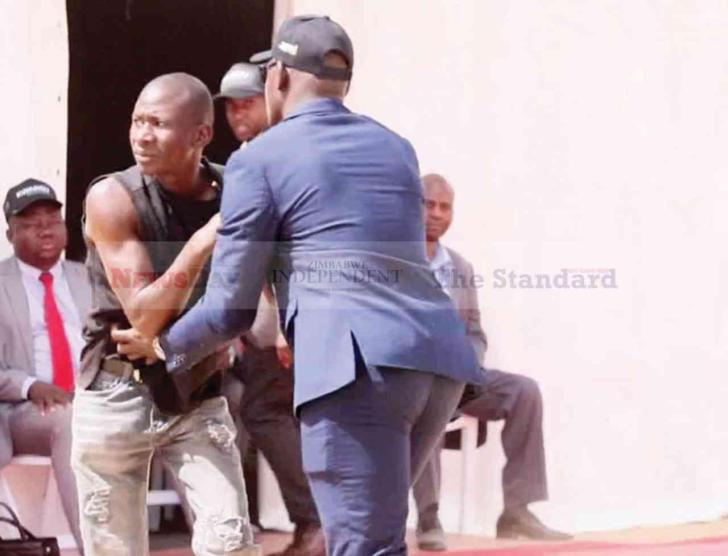 A HARARE man was yesterday whisked away by state security agents and beaten up after he tried to confront President Emmerson Mnangagwa, who was delivering a speech in Epworth in the capital.
Mnangagwa was in Epworth where he handed over 265 securitised title deeds to residents of the settlement.
As he was delivering a speech, a young man breached security and raced to the stage to confront Mnangagwa who is blamed by the opposition for the country's socio-economic crisis, but was stopped a few metres away.
He was taken behind a VVIP tent where he was beaten up.
At the event, Mnangagwa pleaded with Epworth residents to vote for Zanu-PF after they were given the title deeds.
"We are a government that delivers. Today I have returned to Epworth to deliver on that promise," Mnangagwa who was launching the Presidential Title Deeds and Settlement Regularisation Programme said.
In the run up to the March by-elections last year, Zanu-PF promised to dish out 80 000 title deeds to residents there to guarantee property ownership.
However, government later somersaulted and gave various excuses after failing to deliver the title deeds in one of the many false promises.
"This event demonstrated that we have the political will and technical skills to deliver while sufficient resources are available to support this exercise," Mnangagwa said.
"So when we go to elections you should vote wisely in a way that keeps the legacy of black people which is known by those, who fought for it not those who came along the way."
Thousands of Zanu-PF supporters were bussed to the venue.
Source - The Standard