News / National
Chamisa slams Mnangagwa
27 May 2023 at 09:08hrs |
Views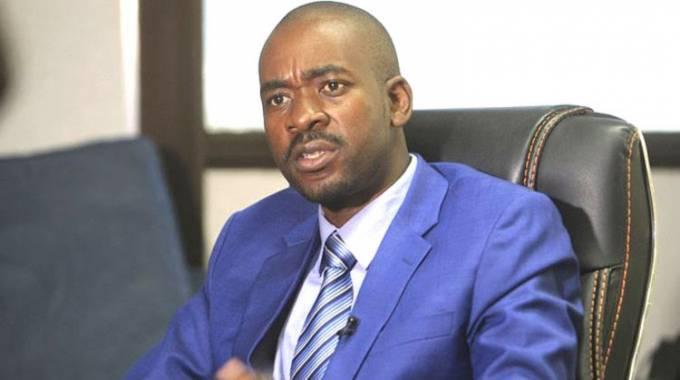 CITIZENS Coalition for Change (CCC) leader, Nelson Chamisa has slammed the failure to proclaim the elections date by President Emmerson Mnangagwa saying the move restricts planning ahead of the polls.
The country's Electoral Act's section 38 empowers President Emmerson Mnangagwa to proclaim the date for harmonized elections after consultation with the Zimbabwe Electoral Commission (ZEC).
However, despite the fact that the year has already progressed well into the first half, Mnangagwa has not yet made the much awaited announcement only hinting the plebiscite will be held in August.
Last month Mnangagwa revealed that he expects to announce the election date towards the end of May on the back of rising pressures from Civil Society Organisations and citizens.
In an interview with NewZimbabwe.com, the country's main opposition leader, Chamisa accused Mnangagwa of taking the entire nation for granted, inhibiting forward planning.
"It is unfair for one player to also be a referee, a match commissioner and to be the regulatory authority.
"It is wrong especially when everyone is put in suspense thereby making planning almost impossible. National affairs and people's lives cannot be run on ad hoc basis upon guesswork and conjecture," he said
The opposition leader called on Mnangagwa to emulate best practices on the continent.
"All stakeholders have to plan ahead of time. Right now Kenyan citizens know the exact date when the elections due in 2027 are going to be held. That is good governance. Not this unilateralism where a date is used as an unfair advantage over competitors.
"Others may not be able to fully plan. A date cannot be determined by one person. The fate of a nation can't fit in one's pocket.
"Mr Mnangagwa is saying he is the only one who knows the date. This is unacceptable," he said.
Quizzed on whether he shares common perceptions that the Electoral Amendment Bill which is yet to be finalised is also a ploy to delay the polls, the trailblazing opposition leader said while amendments should have been completed way before, they remain key to the plebiscite.
"Reforms are very important because they are a major and significant indicator of sincerity and benchmark to a legitimate, credible and free election. It is also an indicator to the world that there is a commitment to respect the will of the citizens.
"So reforms are important but you see these reforms were supposed to be done much earlier, however, it is never too late to do a good thing," he said.
Challenged to reveal any plan of action should President Mnangagwa remain silent on when the elections' will be held, the opposition leader said the law will not leave room for continued silence.
"Everyone is in the dark, except for Mr Mnangagwa and possibly his colleagues in Zanu-PF.
"That is not a desirable framework. It is not conducive to the holding of a proper and credible process.
"That must definitely change and the law must change on that. There is a need to make sure that there is greater predictability. More certainty in terms of these criticals.
"The dates are supposed to be by virtue of the Constitution and the predictability of the date is what we are emphasising on. We need to make sure that we deal with these issues as an immediate national issue and an issue of consideration," added Chamisa.
Source - NewZimbabwe