News / Local
Mnangagwa's victory will not benefit people in Matebeleland
29 Aug 2023 at 08:05hrs |
Views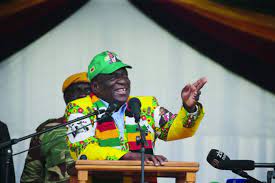 PRESIDENT Emmerson Mnangagwa's victory in the just-ended harmonised elections will not benefit people in Matebeleland region, civic society organisations (CSOs) have said.
In separate interviews yesterday, the CSOs told the Southern Eye that Mnangagwa's ruling Zanu-PF party had marginalised the region since 1980 and their situation has deteriorated compared to before independence.
The Zimbabwe Electoral Commission declared Mnangagwa the winner of the August 23, 2023 presidential race after polling 2 350 711 votes (52,6%), while Citizens Coalition for Change leader Nelson Chamisa received 44% of the total votes cast.
CCC has since rejected the results saying it would challenge the election outcome.
Zanu-PF also secured 136 parliamentary seats while CCC got 73 seats.
The opposition CCC, however, won the majority of seats in rural Matebeleland, winning all 12 seats in Bulawayo, nine in Matebeleland North and four in Matebeleland South.
Nkayi Community Parliament speaker Nhlanhla Moses Ncube said the region would struggle under the Zanu-PF government.
"We are back to 1980, 2000, 2008 and beyond. Matebeleland remains a political reject. The punishment of Matebeleland by Zanu-PF goes back to factory settings.
"As always, the region will harvest nothing from this. Since 1980, Mashonaland seems to have agreed to reject Matebeleland in all elections," Ncube said.
He expressed doubt that any development would take place in the region.
"The status quo will continue. Mnangagwa's victory is as narrow and hollow as the development that will follow it. Obviously, it was brewed in some shrunken tea-pot of sham elections.
"It is just a family victory and not a victory for the country. This is yet another sad day for Matebeleland," he said.
Rural Community Empowerment Trust Matebeleland co-ordinator Vumani Ndlovu said despite Zanu-PF winning the majority seats in Matebeleland South in 2018, the province realised no meaningful development.
"I doubt that its rejection in 2023 will change anything in terms of development. The fact remains, whether Zanu-PF wins or loses in Matebeleland, development in Matebeleland has never been prioritised. Rejection of Zanu-PF is as a result of serious underdevelopment that the region is subjected to," Ndlovu said.
He believes the people of Matebeleland cannot be enticed to vote for Zanu-PF under such conditions.
Ndlovu said failure by the Mnangagwa government to resolve the emotive Gukurahundi issue contributed to his loss in the region.
"They had high hopes that the removal of Zanu-PF would be a panacea to the development predicament that they are facing," he said.
Ibhetshu LikaZulu co-ordinator Mbuso Fuzwayo said: "Economically, people in Matebeleland are marginalised; politically, they are marginalised and the scars of the past have not healed, so they felt there was no reason to vote for him as they view him as the face of the scars and he has been at the centre of all our suffering, the taking of mines from the locals giving to his tribesmen."
For him, the results spelt continued marginalisation of the region.
"It was going to be painful to support the face of Gukurahundi and marginalisation. We better continue suffering, but not vote for those who have rendered us stateless and those who eat on our behalf, take job opportunities in our area and give them to their homeboys," he said.
Bulawayo Progressive Residents Association secretary for administration Thembelani Dube said the vote outcome was a form of communication by the people from the region.
"It is a message to the leadership that devolved service delivery is long overdue. The communities are sending a solid message to the country's top brass that they are languishing in poverty,' said Dube.
"Maybe if those issues are addressed, they may be a paradigm shift in the voting trends. Where there is a will, there is a way. Matebeleland is not a snow island which must be isolated on issues of development.
"The communities expect rapid developmental projects to be at par with other provinces that were prioritised since the dawn of democracy in our country. The victory of one contender is a sign of the political strategy supremacy of one competitor over the other."
Lupane Community Parliament speaker Njabulo Sibanda, however, said they accepted any result and would work with any government.
"We, however, believe that this time around, we are not going to be segregated as Matebeleland or Lupane because we voted for the CCC.
"As a Community Parliament we will accept the results and carry on with development work with our councillors, MPs and the President regardless of their political party," he said.
Nkayi-based developmental proponent Nkosilathi Ncube, however, argued that Mnangagwa will hate Matebeleland and punish the region like what the late former President Robert Mugabe did.
"But still it is the same because they voted for him in 2018, but no development was done for us. So what is not death, it's better for the dog to reject the poisoned food?
"People voted for him in 2018, there is no development, otherwise we are worse off so people are angry, we would rather not vote for him anymore," Ncube said.
Source - Southern Eye