News / Local
Miss Universe Zimbabwe imitating Zozibini 'Zozi' Tunzi
30 Sep 2023 at 07:51hrs |
Views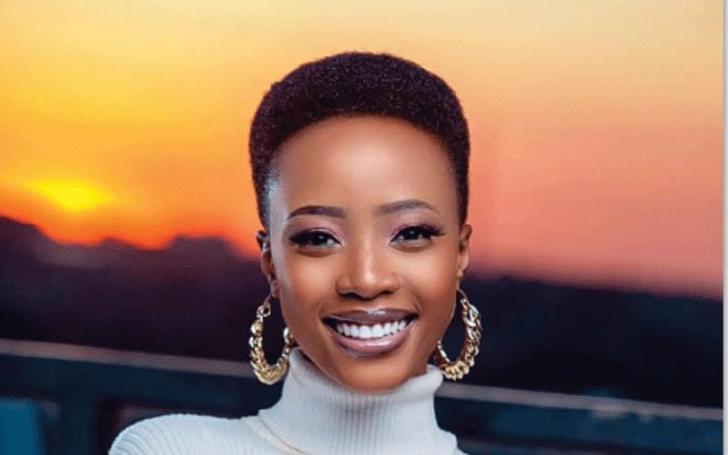 Marumbwa was among the final 12 models who were vying for the crown that landed on Brooke Bruk Jackson's head. After the pageant, the 20-year-old model attracted some backlash as some social media users accused her of imitating Zozi from hairstyle to responding to questions.
REIGNING Miss Universe Zimbabwe first princess Nokutenda Shekinah Marumbwa has rubbished claims that she does mimic famous South African model Zozibini "Zozi" Tunzi.
Marumbwa was among the final 12 models who were vying for the crown that landed on Brooke Bruk Jackson's head. After the pageant, the 20-year-old model attracted some backlash as some social media users accused her of imitating Zozi from hairstyle to responding to questions.
Although she confessed her love for Zozi, Marumbwa, a student at University of Zambia said her hairstyle was, however, not inspired by Zozi, but her mother.
She told NewsDay Weekender that her similarities with Zozi were just mere coincidence as she already had some of the traits being likened to the South African model.
Impersonation
I love Zozi so much and have much respect for her. The fact that people say I look like Zozi is so flattering. People must know that even though she serves as my role model, I am not trying to impersonate her.
My own mother, Mrs Marumbwa, is my source of inspiration for the hairstyle. I cut my hair short because I saw how lovely my mother looked with short hair growing up and I did so long before Zozi made an appearance on the Miss Universe stage.
I tried plaiting my hair for a few months, but it did not feel like me and I felt more confidence in my haircut, hence the style.
If it's about the onstage answer, I and Zozi's answers might have sounded alike because we both stand for similar principles.
I have my own unique story which I shared on my social media platforms long before Zozi debuted on the Miss Universe stage.
When I decided I wanted to become a model at the age of eight, I already had body positivity and activism on the forefront of my mind. I was not there to emulate anyone, rather I was there to be myself and reflect my own distinct viewpoint and journey.
Of Zozi's inspiration
I was not imitating Zozi during the Miss Universe Zimbabwe pageant. Zozi is my role model. Her journey from a small South African hamlet to the title of Miss Universe is an amazing story of tenacity and realising ambitions, demonstrating to young girls that everything is achievable with effort and willpower.
Zozi exudes confidence and embraces her natural beauty, inspiring young women to love themselves for who they are and be comfortable in their own skin.
She is intelligent and well-spoken which is empowering and attractive.
Becoming first princess
Being a contestant at the pageant was a special experience for me. It was an unforgettable experience that filled me with pride and a strong sense of purpose. Becoming the first princess at the Miss Universe Zimbabwe made me realise how teamwork and the support from family played a big role in my success.
It made me realise how much power we all possess to realise our ambitions. Also becoming the first princess at the pageant served as a motivation of how extraordinary things can be accomplished with the help of family and friends. I am so grateful for this chance to uplift, inspire others and make a positive impact in society. I can hardly contain my thankfulness.
I anticipated that participating in the pageant would be a transformative experience. My expectations were to gain a deeper understanding of myself, my strengths and my ability to effect change in the world.
So, becoming Miss Universe Zimbabwe's first princess meant the chance to advocate causes close to my heart and inspire others to pursue their dreams.
Most of all, I expected to have a joyful, adventurous and educative experience. While I am truly grateful for the first princess title, I acknowledge that the judges had a challenging decision to make as every contestant put in a tremendous effort and performed admirably.
I trust the judges expertise in their decision-making process. They knew what they were looking for and what they thought was good.
Life after Miss Universe Zim
My goals are to take part in projects that empower women. So after the Miss Universe Zimbabwe pageant, I am eager to dive into such initiatives, body positivity and the cultivation of a positive mindset which I believe is one of the most important resources for success. These causes are close to my heart and I am dedicated to creating lasting change.
Venturing into modelling
My modelling career has been incredible. I started my modelling journey last year in September. Surprisingly, September 16 will be a day I will remember since this same day in both 2022 and 2023 saw me winning first princess titles in different pageants.
I entered Miss University of Zambia as my first competition in my life and on September 16, 2022, I was adjudged the first runner-up at the pageant. I was chosen to represent the university at the Queen of Zambia pageant (a pageant competition for university students).
I was subsequently crowned Queen of Zambia despite being the youngest contestant, the one with the most obstacles and the one with the least modelling experience. All I did was pray, have faith in myself, think positively, and put in a lot of effort. Also, I was named Miss Universe Zimbabwe's first princess on September 16 this year, which is such an honour.
Parents role
My parents were the backbone of my success. The most powerful push towards my success has been my parents. They have been extremely supportive since day one even though life is tough, they have been making sure they provide for both my academic needs and modelling career needs.
Body shaming
I was bullied because of my looks and physical appearance when I was young. As a little girl, (seven years), I was constantly laughed at and called names for being skinny and not very pretty.
This hurt me so bad even though I laughed it off to avoid being called a cry-baby. At one time when I cried to my mother about the bullying I was facing, she comforted me with a few words in which I grabbed the phrase kumodelling kunodiwa vanhu vakaonda. (modelling is for the slenders). From that day onwards, I decided to make what people considered my weakness, my strength and since then I grew this passion to speak against body shaming. I know how much it hurts when you are laughed at because of how you look, it diminished my self-esteem. I could not reach my full potential and I felt devalued.
Desires
My goal is to empower and inspire ladies who are facing the same challenge and help them realise that it is not about what is on the outside, but the power that lies within you.Through having a positive mindset and unwavering self-belief, one can get to where he or she wants to be regardless of what society says, social status, what you look like or how old you are," she said.
Modelling as an escape route
I use modelling as an escape route from the challenges I face. I saw modelling as the perfect platform to advocate the causes close to my heart. I am not from a rich background, but the support my parents have provided me even though they struggle to make ends meet keeps me going. I want to make them proud. I will keep on keeping on until I get there.
Titles
Miss University of Zambia (First Runner-Up 2022), Queen of Zambia (2022) and Miss Universe Zimbabwe (First Runner-Up 2023).
Source - newsday