Search / Tysonwabantu
As the 2023 elections in Zimbabwe approach, one candidate stands out as the leader the country needs to overcome its economic and social challenges: Saviour Kasukuwere. The 53-year-old former Cabinet ...
Published: 05 Feb 2023 at 10:31hrs | 2582 | by Ntokozo Msipha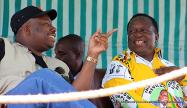 SELF-EXILED former Zimbabwean minister and Zanu-PF political heavyweight Saviour Kasukuwere is living in fear in Johannesburg, South Africa, as the Harare government steps up pressure behind the scene...
Published: 13 Nov 2022 at 17:47hrs | 4046 | by Staff reporter
Since September 2019, there has been no session of Mnangagwa's politburo where they have not discussed Saviour Kasukuwere betraying their dread for the people's choice, Kasukuwere. In a dramatic press...
Published: 17 Sep 2020 at 15:38hrs | 2 | by Peter Moyo
Load More Stories