News / Local
ANC engaged in 'delicate' talks with Zanu-PF after disputed poll
05 Sep 2023 at 22:04hrs |
Views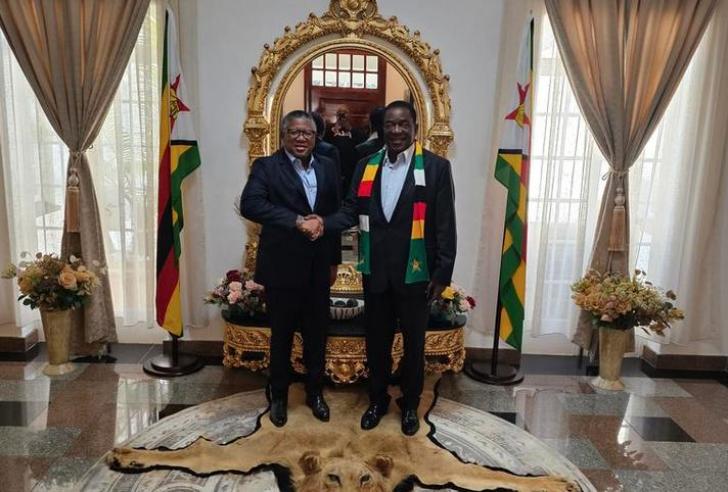 South Africa's ruling party, the African National Congress (ANC), is engaged in "delicate" talks with Zanu-PF in Zimbabwe following disputed elections, secretary general Fikile Mbalula has said.
Publicly, the ANC has endorsed President Emmerson Mnangagwa's disputed victory while dismissing his Citizens Coalition for Change rival Nelson Chamisa as a "puppet" of western countries.
Now it appears the ANC has been employing a strategy to soften Zanu-PF and buy leverage in closed-door discussions.
Mbalula revealed the discussions in a leaked letter to the OR Tambo School of Leadership which had planned to host, this Thursday, Zimbabwe academic Ibbo Mandaza for a lecture under the title: 'The State of Democracy in the SADC Region: A Reflection on the National Elections of Zimbabwe.'
Mbalula has asked that the lecture be paused.
"At the moment the leadership of the ANC is engaged in a number of delicate engagements regarding the situation in Zimbabwe. In this context, a public lecture, at this time, on what is clearly an ANC platform, would complicate these initiatives," Mbalula wrote to OR Tambo School of Leadership principal, David Masondo.
As Mnangagwa was being inaugurated on Monday, an aide of exiled presidential aspirant Savior Kasukuwere wrote on X, formerly Twitter, that regional leaders had tasked South African President Cyril Ramaphosa to "talk sense" to the Zanu-PF leader.
Ramaphosa was one of only three presidents to attend Mnangagwa's inauguration, joined by Felix Tshisekedi of the DRC and Filipe Nyusi of Mozambique. SADC chairman, Angolan President João Lourenço, and the SADC troika chair Hakainde Hichilema of Zambia both stayed away.
Kasukuwere's media adviser Ali Naka posted: "President Ramaphosa's attendance must be seen in its proper context. SADC leaders have tasked him with a very difficult role to try talk sense to the unelectable Mnangagwa. Don't be misled by desperate Zanu-PF propaganda. The diplomatic isolation has hit hard."
South African leaders have increasingly voiced concerns over the tidal wave of illegal immigrants pouring into Africa's most industrialised economy. Immigration is now a major election issue ahead of general elections next year.
Speaking in 2019, foreign relations minister Naledi Pandor said: "The political formations in Zimbabwe remain at loggerheads and have apparent deep antipathy towards each other which makes joint decision making and planning extremely difficult.
"It seems clear that even as we support the call for an end to economic sanctions, the political dynamics that we observe are inextricably linked to the economic solutions and thus the politics and the economic as well as the social need to be confronted simultaneously."
Pandor said regional countries would not "achieve the economic resolution… without resolving the political, intractable hostility and lack of amity or social conjoining on finding a national solution."
A year later, the ANC sent a delegation led by then secretary general Ace Magashule to try and break the political paralysis that has spawned a deep economic and human rights crisis in Zimbabwe.
The delegation, after holding talks with Zanu-PF, was denied permission to meet with other groups and individuals who wanted to make submissions including four opposition parties, the Zimbabwe Human Rights NGO Forum and the then United States ambassador to Zimbabwe, Brian Nichols.
Ramaphosa left Zimbabwe shortly after Mnangagwa's inauguration on Monday, missing a state dinner, but an ANC delegation remained.
On Tuesday, Mbalula met Zanu-PF secretary general Obert Mpofu at the Zanu-PF headquarters. He also posted a picture with Mnangagwa, suggesting that the two men had met privately earlier in the day.
"We touched on the renewal processes that both our organisations are undergoing and strengthening of our strong bilateral relations with Zanu-PF," Mbalula said on X afterwards.
"The meeting also focused on the importance of building strong relations and cooperation between our two parties as we support their fight against the economic blockade and illegal sanctions against Zimbabwe."
Meeting … ANC secretary general Fikile Mbalula met President Emmerson Mnangagwa in Harare on September 5, 2023
CCC leader Nelson Chamisa recently dispatched a delegation to meet regional leaders as he presses for fresh elections, boosted by a report by the SADC Election Observer Mission which said the August 23 elections did not meet regional and international standards.
Since coming to power through a military coup in 2017, Mnangagwa has faced an almost permanent legitimacy crisis which threatens to engulf his second and final term, limited by a constitution adopted in 2013.
Western countries have ratcheted up pressure on the regime in the wake of the latest disputed elections, with senior United States lawmakers calling for tougher sanctions while former colonial power Britain has called for "inclusive dialogue" – which just might be the message the ANC delegation delivered to Harare.
Source - southern eye