News / National
Uebert Angel reveals calls to Mnangagwa's wife, son were recorded during Al Jazeera exposé
26 Mar 2023 at 11:03hrs |
Views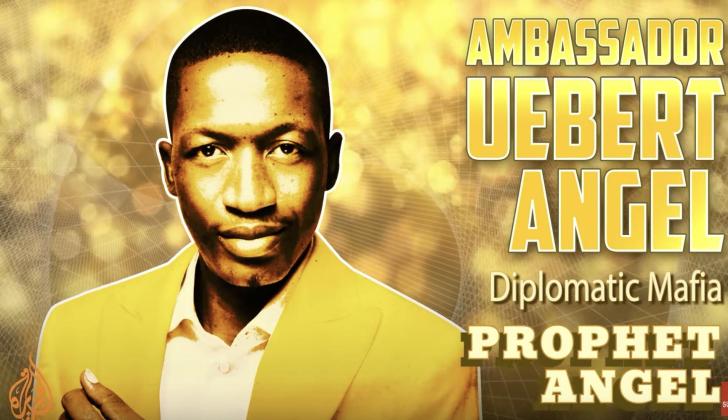 Ubert Angel, a self-proclaimed prophet and one of Zimbabwe's most influential diplomats, has revealed Al Jazeera recorded his telephone conversation with the state leader's wife and one of his sons during in its blockbuster exposé on money-laundering and gold smuggling activities.
Angel, appointed ambassador-at-large and a presidential envoy by Zimbabwe's President Emmerson Mnangagwa in March 2021, was secretly recorded boasting that he could launder as much as US$1.2 billion and equal worth in gold without any glitch.
Al Jazeera Thursday released its first episode of a four-part investigation into how government officials were facilitating illegal trade in gold in an attempt to 'bust economic sanctions.'
The first episode centred on Angel, a self-proclaimed prophet, who without any hesitation offered to launder large sums of money for Al Jazeera's team of investigative journalists posing as potential investors.
In a response sent out by Angel's office Saturday, Sobona Mtisi his Chief Investment Officer said figures of US$200,000 which were mentioned as facilitation fees to meet Mnangagwa were just him playing along to the "investors" as they had already begun to suspect that they were criminals.
Through Mtisi, the 44-year-old ambassador-at-large, who claims to be a prophet and heads a congregation - the Good News Church - with branches in 15 countries, said they faked a call to Rushwaya and repeated the same for calls to Auxillia and her son, pretending to be facilitating their mega-deal.
According to the response Angel has never met Auxillia. Mtisi stated there was no way Angle could have gone through with his promise to carry US$1.2 billion illegally into the country as that was 'physically impossible' and he 'just wanted to see if the money was really there.'
Source - online