News / Local
Outcry over state of Old Gwanda road
19 Mar 2023 at 07:54hrs |
Views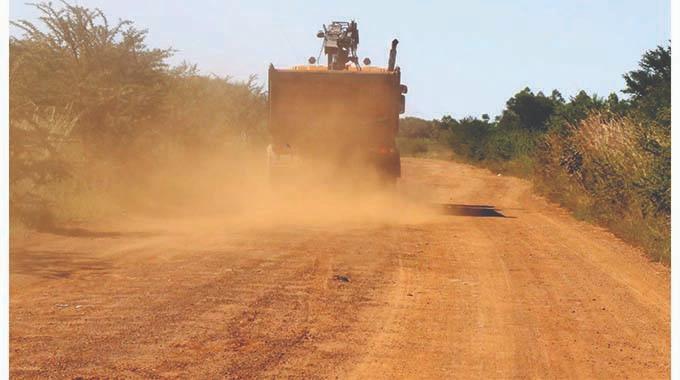 Matabeleland South villagers have decried the poor state of Old Gwanda Road that has been neglected over the years.
The road connects Bulawayo to Gwanda, the Matabeleland South capital.
Matobo Ward 15 councillor Dickson Moyo told Sunday Southern Eye that they were tired of several false promises by government officials to fix the road.
Moyo said the road had become a nightmare for motorists and travellers due to its bad state.
"I think they are ignoring roads especially Old Gwanda Road because they think it's an old thing due to its name," Moyo said.
"This is a very busy road. We are farmers supplying the Bulawayo market with vegetables and sweet potatoes.
"There is a lot of business taking place here, but people are failing to move their products from point A to B because of this dilapidated road."
The government in 2021 announced an Emergency Road Rehabilitation Programme (ERRP) to refurbish the country's roads with a budget of $33.6 billion set aside for the project.
Under ERRP, the government is targeting to rehabilitate 10 000km of the roads countrywide, but mainly urban and trunk roads.
Matabeleland South chief Mathema said the ERRP neglected Old Gwanda road.
"The rehabilitation of this road is very important seeing that we are soon going to be having a new university (at Matopo Mission)," Mathema said.
"It will bring services to the community and attract nucleated settlement."
Last month, a local company pledged to rehabilitate the road stretching from Bagcwele to Gwanda at a cost of about US$150 million under a build, operate and transfer (BOT) model.
The project is being spearheaded by engineer Bekithemba Mbambo, who is the chief executive officer of Zwane Enterprise who was born in Dula Village in Umzingwane.
Traditional leaders of the area held a traditional ceremony at Dula Village praying that the project becomes a success.
In an interview, Mbambo said they submitted an unsolicited bid to government to rehabilitate the road.
"We have, however, not started any work," Mbambo said in an interview.
"We are waiting to be granted a license by the government, but we have sourced US$150 million minimum for the upgrade.
"We have consulted the communities along the corridor and assembled all the technical experts and contractors to do a quality job.
"It is a win-win-win project all around."
He added: "A certain amount has been allocated to assist villagers along the road to be relocated outside the road servitude area.
"Livestock is also to be secured through a roadside fence."
Source - Southern Eye