News / National
Zimbabwe continues to digitalise passport application
02 Apr 2023 at 13:36hrs |
Views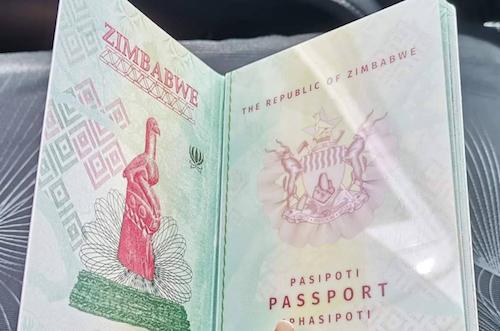 THE Government is putting in place a cocktail of measures to ensure easy access to travelling documents and is expecting services to decentralise to all districts by year-end while efforts are being made to digitalise the application process and minimise person-to-person interaction to weed out corruption.
Speaking at the Inter-ministerial Review and Validation of Comprehensive Assessment Report of Zimbabwe's Civil Registration and Vital Statistics (CVRS) Systems workshop in Victoria Falls recently, Home Affairs and Cultural Heritage Permanent Secretary Dr Gerald Gwinji said plans were underway to integrate all line departments so as to eliminate person to person interaction.
"We are now moving on to the issuance and provision of e-passports. That is an exercise that has already started and is in tandem with developments in the wider world. We started with our Central Registry Office in Harare and there are plans to decentralise. Decentralisation is done by way of creating data capture centres where data is captured and a passport is produced at one passport centre in Harare but dispatched within the 24 to 48 hours to the centre where the data was captured. So, we have decentralised to most of the major cities and we are now moving into districts," he said.
He said by the end of this year most services would have been decentralised to districts in tandem with what the world was demanding. With regards to corruption, Dr Gwinji said a cocktail of measures were being worked on to fight graft.
"We have a few bad apples and the strategy really is to get rid of that and the way to go is to digitalise passport application and provision service so that there is less human-to-human interface. And we have the overall plan as ministry of integrating our services across all our departments like immigration, police and civil registry to allow less human-to-human contact. In the meantime, the process that we have really exposes citizens to this face-to-face interface and the opportunity for corrupt activities exists," said Dr Gwinji.
He said before digitalisation, Government was doing frequent supervisory checks and visits to stations to guard against corruption. With regards to concerns about high cost of passports, Dr Gwinji said: "It's not a cheap document to produce. We have acquired new technology and partnerships and they need to recover what they invested in the system. So yes, it's a bit on the costly side if you compare with regional perspective but we hope that as we establish and roll out we will revise that figure so that our passport becomes more affordable to the citizens."
Registrar General Mr Henry Machiri said e-services have so far helped the Civil Registry Department to clear passport backlog from the thousands that had accumulated since 2018 and by September last year, all outstanding passports had been processed. The e-passport system was launched by President Mnangagwa in December 2021 in Harare and the Central Registry started issuing it on 18 January last year.
The system was decentralised to Bulawayo in March last year and e-passport offices have been opened in Midlands (Gweru), Mashonaland West (Chinhoyi), Mashonaland East (Marondera) and Matabeleland North in Lupane.
District e-passport offices have also been opened in Hwange, Murehwa, Beitbridge, Mazowe, Bindura and Zvishavane, with work currently underway in Mutare. The Registrar General said this year they would install the e-passport system in Chipinge, Mwenezi and Gwanda.
"We have always discouraged people to sleep in queues. There is no need to come and sleep in queues or to wake up as early as 4am to join the queue because the system is now quick. When you come a day before or at night you are giving touts a chance to start corrupt activities or steal from you," said Mr Machiri.
He said applicants are assured of getting their passports within the stipulated time as the Registry office now processes current applications.
Mr Machiri said the old machine-readable passports were still valid travel documents until the day it should expire as no deadline has been given on them despite the presence of e-passports.
Source - The Sunday News