News / National
Mnangagwa expected in Bulawayo today
06 Apr 2023 at 06:41hrs |
Views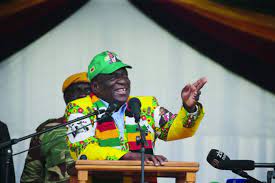 PRESIDENT Mnangagwa is today expected in Bulawayo where he will officiate at the Concord Young Women in Business Global ICT graduation ceremony at the Zimbabwe International Trade Fair (ZITF).
Concord Young Women in Business Global ICT is women empowerment group that seeks to empower the girl child with ICT skills.
The programme, which started in January, is aimed at empowering young women with skills on how they can utilise information communication technology (ICT) to enhance their businesses.
The event is expected to be attended by nearly 10 000 young women from across the country's 10 provinces.
Youths from some of the provinces started arriving in Bulawayo yesterday for the event.
Bulawayo Provincial Affairs and Devolution Minister Judith Ncube said the President is expected in the city today.
"Yes, we expect the President to officiate at Concord Young Women in Business Global ICT graduation ceremony tomorrow (today). President Mnangagwa would have an interaction with young women on how they are using ICTs to enhance their businesses," she said Minister Ncube.
Concord Young Women in Business Zimbabwe Global president Ms Nyasha Musavengana said 9 800 women participated in the ICT training.
"The reason why we did the ICT training is that the world is becoming digital and we realised as young women who want to do business or who are into business should embrace technology. This is what led us to come up with this ICT training programme," she said. "Our initial target was young women from 15 years to 25 years, but due to the huge response, we had to open to women who are 45 years old and below. We started the programme in Mashonaland Central and Bulawayo was the last province hence we decided that we should have the ICT graduation in Bulawayo."
Ms Musavengana said they decided to equip women with digital skills so that they are able to occupy online spaces in line with modern trends.
She said it is befitting for President Mnangagwa to officiate at the event as Government under the Second Republic has made great strides in promoting ICT gender inclusion.
"In total, we trained 9 840 young women who are going to be awarded with certificates of completion tomorrow (today) by His Excellency, ED Mnangagwa. The reason why we invited the President to officiate at this event is because of how his policies have empowered women in the ICT sector," said Ms Musavengana.
"We have seen Zimbabwe occupying the digital platforms in sectors such as agriculture and mining sector."
Ms Musavengana said it is a great honour for them to have the President gracing today's event, which is a recognition of the strategic role that women play in sustainable economic growth and development.
She said the empowerment of young women with digital skills resonates with Government's thrust of fostering inclusive development which leaves no one and no place behind as the country march towards Vision 20230 aimed at making Zimbabwe a prosperous and empowered upper-middle income society.
Empowering women in the economy and closing gender gaps in the world of work is key to achieving the 2030 Agenda for Sustainable Development, particularly Goal 5.
Government is taking concrete steps to economically empower women.
Acknowledging the critical role that women play in the development of the country, the Government has an unwavering commitment towards promoting Gender and Women Empowerment and is a party to International and Regional instruments for gender equality and women empowerment.
In furthering the Women's Empowerment agenda, the Second Republic is implementing various programmes for women's empowerment, which include financial inclusion, access to markets, and capacity building.
Ms Musavengana said their programme also complements Government's Community Information Centres initiative which has seen ICT training being extended to periphery areas. She said while the first cohort of young women will receive their certificates today, Concord Young Women in Business Global ICT, intends to train more in the second phase of the programme.
"We were not able to reach out to every young woman. Our expected target was 50 000 young women, but we only reached a fifth of that so we will redo the same exercise and reach out to rural areas which we could not access during the first phase," said Ms Musavengana.
Source - The Herald