News / National
'Mnangagwa copying Smith's colonial handbook'
20 Apr 2023 at 07:35hrs |
Views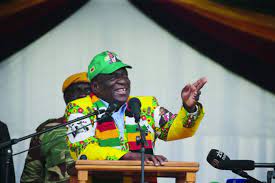 PRESIDENT Emmerson Mnangagwa has been accused of copying the late colonial leader Ian Smith's system of weaponising the law against critics.
"In fact, the methods used by the Smith regime on the black majority population to stifle their rights such as the use of force and torture to stop black nationalism remain in use against the population by the incumbent government," the Zimbabwe Human Rights NGO Forum said yesterday.
"The forum is disturbed that the human rights situation in the country has continued to deteriorate since independence. This is worsened by the weaponisation of the legal reform processes and the judiciary against perceived enemies of the State."
Government has been pushing for repressive laws such as the controversial Private Voluntary Organisations (PVOs) Amendment Bill to regulate operations of civic society organisations.
The Bill is undergoing proof-reading at the Attorney-General's office having sailed through Parliament.
Last year, Cabinet approved the Criminal Law (Codification and Reform) Amendment Bill which seeks to punish individuals for conduct deemed as hurting the country's interests.
Critics say the law is meant to gag critics against speaking out on corruption and misgovernance.
"The forum is concerned that the nation may have set itself free from the shackles of colonial minority rule in 1980 but the realisation of freedom today is riddled with a myriad of governance and human rights challenges," the Zimbabwe Human Rights NGO Forum said.
"The freedom of Zimbabwean citizens hinges on respect and adherence to the founding values of the liberation struggle which are pronounced in the principles and Constitution."
Amalgamated Rural Teachers Union of Zimbabwe (Artuz) spokesperson, Thembakuye Moyo, said the education sector was still yet to reclaim the dignity that the country's departed heroes fought for.
"The government of this country has made it deliberate through its dictatorship to ensure that the democratic space remains closed and the black folks remain repressed," Moyo said, adding teachers are harassed, tortured and detained for expressing concerns over poor working conditions.
"The poor remain marginalized and excluded from the trough of quality education, yet the government promised free education."
Source - newsday