News / Regional
Vic Falls council to push for temporary passes for traders
15 Mar 2022 at 13:12hrs |
Views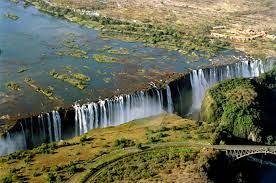 The Victoria Falls City council is set to engage the Home Affairs to issue temporary passes on informal sector traders amid an outcry that the foreigners enjoy such liberties at the expense of the natives.
Prior to the induced covid 19 lockdown, the residents and their counterparts in the Livingstone used to interact as they share the same cultural background. The Zimbabwean government had always demanded a passport and this had triggered an uproar as the residents felt disadvantaged.
The Vic Falls Mayor, Somvelo Dlamini signalled a green light to the informal traders' plea recently.
"We will appeal to the Ministry of Home affairs to issue temporary one day passes to the informal traders as most of their relatives stay in Zambia or vice versa and for them to conduct their traditional ceremonies,"he said.
"Informal traders rely on doing business with foreign neighbors in Botswana and Zambia. The borders have been opened for them to do business but the implementation part is stalling,".
Dlamini said this responding to the complaints from the residents who claimed that the Zimbabwean government denies them one -day passes in favor of passports.
An informal trader who spoke on condition of anonymity said it is not viable to have a passport stamped daily as it is costly to acquire one.
"It doesn't make sense for one to have a passport that will be stamped daily, as informal traders oftenly cross the border hence a temporary pass will ease things up. Why is our government promoting foreigners at our expense? ".
Source - Byo24News