Opinion / Columnist
A little bit of respect for Mnangagwa
22 Oct 2017 at 07:20hrs |
Views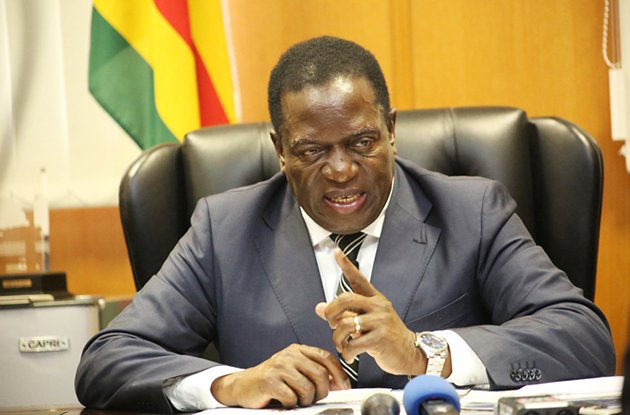 Instead of working hard for the party, some people are going to work hard to destroy the VP. Some will be sponsored to do so while others will just be overzealous to put up a show. There is going to be a stampede and VP Mnangagwa better get ready kutsokodzerwa nanachura.
VICE President Mnangagwa is the current punch bag. He has been on the receiving end for quite a while. It's now fashionable to throw one or two jabs in his direction. But then someone seems to be punching way above his weight. That has to stop. STOP IT!
Just a slight detour. Looks like we have entered the Season of Alliances. Morgan Tsvangirai is said to be shaping his MDC-T alliance while Joice Mujuru is said to be taking charge of some new alliance. It's alliance this and alliance that.
Morgan is trying to take the MDC-T to the 1999 structure and has thrown Professor Welshman Ncube as the spokesperson of the alliance. Quite laughable, if you ask me. Morgan never learns, but hey the man is not well. Let's not expect too much from him.
Thokozani Khupe, Nelson Chamisa and Elias Mudzuri are watching the machinations with keen interest. They are waiting for Morgan to make the wrong turn. Meanwhile, Morgan is saying "no selfies for now" because hazvina kumira mushe.
After the meeting of the so-called principals of the alliance, many thought Morgan will do what he knows best – smiling cutely to the camera and splashing the pictures on social media. Remember that picture of Morgan with those bevy of beauties seated on a bench in a park? That's Morgan's style. But not anymore. Speedy recovery Save!
Then Mai Mujuru, kikikikiki! She has become so irrelevant to the country's politics such that when she speaks, instead of laughing, you feel sorry for her. She has become so desperate that she thinks some nonentities like Farai Mbira, Gilbert Dzikiti and Lucia Matibenga can constitute some alliance.
The biggest worry is that Mai Mujuru is actually taking her alliance seriously. She is convinced that she will win elections next year. I honestly never suspected that her naivety runs that deep. As if that is not enough, Mai Mujuru is just not photogenic. She looks so unsure as if she is wondering why she is doing what she is doing. Come on Joice, smile a bit.
Anyway, let the alliances flourish! They are in season.
Now to today's sermon.
I said VP Mnangagwa has been receiving quite a number of blows of late. Many are wondering how and why up to now the man has not been dazed by the blows. Some are speculating that his days as VP are numbered while others are convinced, the man is dead politically.
Opportunists are trying to take advantage of the hurricane and they are making it a hobby kuti kana vashaya zvekuita VaMnangagwa becomes zvekuita zvavo. Bishop Lazarus does not hold any brief for VP Mnangagwa, but surely kana vana shuro vohukura zhou tinobva tashaya kuti zviri kumbofamba sei?
Zanu-PF Youth League chairman for Manicaland Mubuso Chinguno is one such shuro that should Stop It! We are fully aware that it was a close shave for him when he almost got fired together with Mai Mujuru and so we know that he is deploying some compensatory behaviour to cover up for his 2014 sins. But a little bit of respect from Chinguno would be most welcome.
Speaking to one of the daily papers, Chinguno clearly went overboard saying: "We might say let's do this and that but we will not go anywhere if we don't deal with Emmerson who has been using his proxies to undermine the President. We can fire the whole party but the only way forward is to remove him.
"He is a cancer. We have fired a lot of people since 2014 because of this man. So let us deal with Emmerson at the coming special Congress so that all departments pull in one direction."
He said VP Mnangagwa was showing "fake love" towards the President adding; "There is no loyalty in him, there is only disloyalty. In fact, Zanu-PF will be stronger without him."
Strong but very misguided if not suicidal words from a very weak little boy. It's very possible that Chinguno was just speaking his mind or he is just a loud speaker, but whatever, Zanu-PF in general and the Youth League leader Kudzanai Chipanga in particular should not allow such stinking disrespect for party leaders. That culture of disrespect should be stopped forthwith in the Youth League.
Where did Chinguno get the guts to call a whole VP by his first name? A VP who was appointed by President Mugabe, the man he purports to support? Where did he get the guts to call a whole VP a cancer? What does Chinguno know about fake love and loyalty?
The wise words by President Mugabe last year as he was closing Zanu-PF's 16th Annual National People's Conference in Masvingo always ring in my mind.
"Discipline, discipline, discipline, discipline…Kuzvibata tichitevera gwara remusangano. Kuzvibata tiine ruzivo rwekuti varipamusoro vanosungirwa kukudzwa, vari pazasi vakukudzeiwo imi muri pamusoro," said the President.
What has happened to heeding the President's call? Where is the "discipline, discipline, discipline, discipline?" Where is the respect for elders? Are these the kind of youths who are set to inherit this beloved country? Baba batsirai Zimbabwe.
We can even take the matter biblically. 1 Peter 5 vs 5 says: "Likewise, you who are younger, be subject to the elders. Clothe yourselves, all of you, with humility toward one another, for 'God opposes the proud but gives grace to the humble'."
Bishop Lazarus is fully aware that as we head towards the remaining Interface Rallies and as we head towards the Zanu-PF Special Congress kuchaita tunana Mike Tyson hobho tunofunga kuti regai tiwonekwe tichikanda tubhakera towards VP Mnangagwa.
Instead of working hard for the party, some people are going to work hard to destroy the VP. Some will be sponsored to do so while others will just be overzealous to put up a show. There is going to be a stampede and VP Mnangagwa better get ready kutsokodzerwa nanachura.
Sekuru vangu Matope (may his soul rest in peace) would always tell me; "Muzukuru chero watsamwa sei, gara wasiya pamangwana mukutaura."
VP Mnangagwa is going to be free for all, but zviri nani kusiya pamangwana. Politics is one complicated game. If VP Mnangagwa is going to be removed as VP, why don't we wait for due processes? Why don't we wait for the appointing authority to take action, if necessary?
Come to think of it – there is a school of thought that is saying, by continously punching the bag, people are beginning to feel pity for the bag. Am not sure whether people like Chinguno are not making VP Mnangagwa much stronger?
One researcher once said: "Most of the problems in life come because of two reasons: We act without thinking and we keep thinking without acting." Just to add, "Maturity starts when drama ends."
Bishop is out!
Source - Sunday News
All articles and letters published on Bulawayo24 have been independently written by members of Bulawayo24's community. The views of users published on Bulawayo24 are therefore their own and do not necessarily represent the views of Bulawayo24. Bulawayo24 editors also reserve the right to edit or delete any and all comments received.