News / Local
Sikhala's conviction rocks Zimbabwe opposition and civil society
04 May 2023 at 06:14hrs |
Views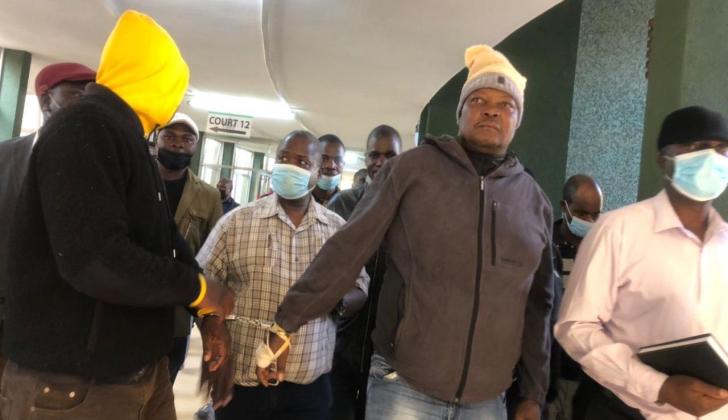 THE conviction of Citizens Coalition for Change (CCC)'s Zengeza West legislator Job Sikhala on Wednesday has rocked the opposition and civil society, with critics saying it showed an intensifying crackdown against dissent.
Sikhala was convicted on a charge of obstructing the course of justice and was fined US$600, becoming the third opposition figure to be convicted in less than a month.
Harare magistrate Marehwanazvo Gofa also slapped Sikhala with a six-month suspended sentence over statements that he made following the brutal murder of opposition activist, Moreblessing Ali last year.
Sikhala is lawyer for the activist's family.
Last week, Transform Zimbabwe leader Jacob Ngarivhume was given a three-year jail sentence for inciting violence ahead of planned protests against corruption and poverty in the country in July 2020.
In April, CCC spokesperson Fadzayi Mahere was fined US$500 for communicating falsehoods considered prejudicial to the State.
The convictions came at a time when the ruling Zanu-PF party is pushing for enactment of the heavily criticised Electoral Act Amendment Bill, which seeks to disqualify aspiring candidates with criminal records.
It was gazetted last year, but has not been signed into law.
Yesterday, analysts expressed concern over the crackdown against opposition voices.
Political analyst Eldred Masunungure said Zanu-PF has shown that it did not tolerate diverse views.
"Many people thought the 2017 events (coup) were a rupture of a regime between the so- called first and second republic," Masunungure said.
"That is not the case. What is happening is a clear demonstration that there is a smooth continuity of authoritarian character of the second regime.
"Government cannot legislate for a one-party State because it is no longer fashionable, but in practice that is what is happening."
Chitungwiza North legislator Godfrey Sithole is out on bail on a charge of inciting public violence.
He is charged alongside Sikhala and 14 other Nyatsime residents.
CCC organising secretary Amos Chibaya and Budiriro legislator Costa Machingauta, together with 24 other CCC members, are also out on bail on a charge of disturbing public peace.
Trade unionist Obert Masaraure is out on bail after having spent 27 days in pre-trial detention on charges of obstructing the course of justice.
Political analyst Alexander Rusero said Mnangagwa was weaponising the law against the opposition.
"They use the law to sanitise their dealings with their political opponents.
"Law is just one of several instruments that are being used by the regime to outwit political opponents," Rusero said.
"It is now clear that the so-called second republic is a repetition of the Mugabe regime.
"There is a need for an overhaul of the whole system for us to have a different action on governance."
Exiled former Cabinet minister and Zanu-PF member Jonathan Moyo posted on his Twitter handle saying: "It is yet another dark day in the corridors of Zimbabwe's battered and beleaguered criminal justice system!"
In court yesterday, Sikhala said his spirit was not broken despite his conviction.
"I have known comfort in the Chikurubi (Maximum Security) Prison walls as it is the price to pay for freedom," Sikhala said in mitigation at the Harare Magistrates Court before sentencing.
"Over 10 months, I have been kept from my people and from carrying out my duties and even though I have been kept in prison confinement, I know (South Africa's anti-apartheid stalwart) Nelson Mandela was kept in prison, but his spirit was never broken and never will be mine."
Sikhala said he was facing political persecution.
"I am simply a legal practitioner being persecuted for catering for a person who was brutally murdered and my dedication is to provide for a future with equality," he said.
"No form of injustice will move me, history chapters will remember me. I do not seek to defeat justice.
"Let those that killed Ali laugh for they have won the battle, but the war will be won by the people.
"I believe in the principles of law and I always serve the needs of the people as I do not wish to see the law being used as an oppressive tool."
He added: "The values I grew up with were guided by the freedom received in the liberation struggle, which pushed me into fighting for a better legally guided society.
"Those who murdered Ali are the same characters who laugh at me today. They will get what's coming to them."
Source - newsday