News / Local
Zivhu vows to campaign for Mnangagwa in 2023 elections
13 May 2023 at 18:37hrs |
Views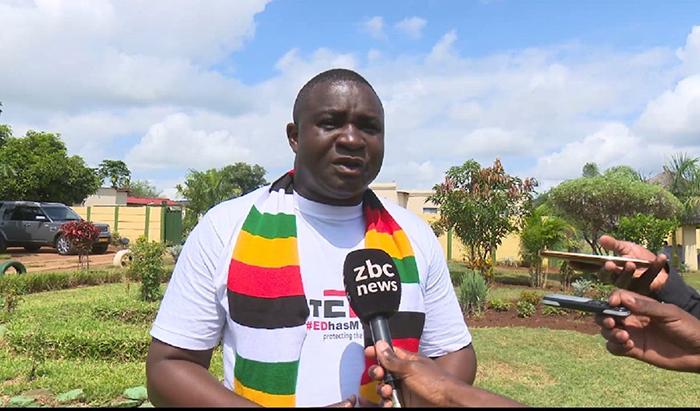 Outspoken former Chivi South Member of Parliament (MP) Killer Zivhu recently put to an end rumours that he wanted to stand as an independent candidate in the upcoming elections, saying it would be betrayal to Zanu-PF even if he was still expelled.
Addressing a press conference at Eland Restaurant in Masvingo on May 3, Zivhu said he had no ambitions ever to be a parliamentarian, and if constituents in Chivi South still wanted him to lead, he was open for any other role in the party once he is readmitted.
Zivhu said he wanted to lay to rest indications by many of his supporters that he was eyeing the Chivi South seat, claiming that some Zanu-PF losing candidates in the recent primaries as well as some Citizens Coalition for Change (CCC) members were moving around campaigning for him as an independent candidate.
"There are some disgruntled candidates who lost in the recent Zanu-PF primaries who are moving around campaigning for me. CCC is failing to get a competitive candidate and they have decided to go for me as an independent candidate.
"There are also people who were not happy with my expulsion and are campaigning for me without my consent. I am not going to contest as an independent candidate, not only in this election but even over the next 20 years. There is no way I can contest against ED," he said.
Zivhu, who was expelled from the ruling party in June 2020 after he allegedly fell out with party leaders for breaking protocol said he remains Zanu-PF and will always support President Emmerson Mnangagwa, whom he said he worked for to get him into power.
"I was there when these things started. We participated more and this is what we wanted; we wanted him (President Mnangagwa) to be president and it's something that we fought for, for more than 15 years.
"I cannot just stop and help to destroy something that I worked for, for 15 years. What will I benefit from that?" he added.
He also spoke on his interactions with other politicians aligned to other parties other than Zanu-PF, saying he does not find any reason to run away from them when they meet due to past relationships.
He refused to either confirm or deny social media statements attributed to him, saying since he was not a Zanu-PF member he had no obligation to follow party protocol in conveying his opinions on various issues.
"I am not in the party now, so I have no obligation to follow party protocol in conveying my messages. I do not support corruption, unlike others who hide behind the president to support corruption. I have written to the party asking to be readmitted into the party and I'm waiting for a response.
"In the coming elections however I will be campaigning for ED even through the Crossborders' Association, which has over 3 million traders," Zivhu said.
In 2020, Zivhu was expelled from Zanu-PF after he allegedly tried to facilitate a meeting between First Lady Auxillia Mnangagwa and CCC president Nelson Chamisa's wife, Thokozile Chamisa.
Source - TellZim News