News / Local
Mnangagwa lashes out at CCC, observers
28 Aug 2023 at 08:24hrs |
Views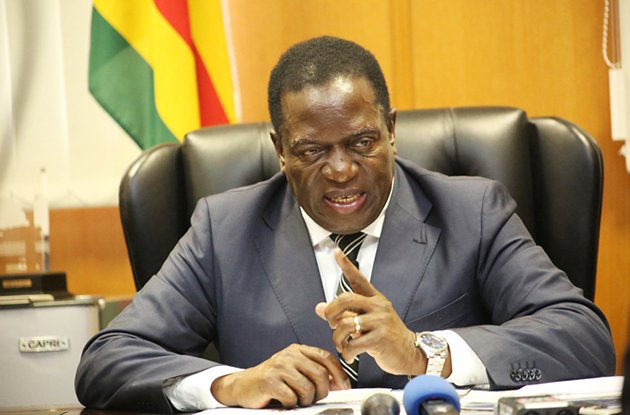 President-elect Emmerson Mnangagwa yesterday lashed out at claims that the August 23 and 24 harmonised elections were rigged in his favour, challenging those who are not happy to take the matter to court.
Addressing journalists at State House yesterday Mnangagwa said he did not in any way influence the election outcome announced by the Zimbabwe Electoral Commission (Zec) on Saturday night.
Zec chairperson Justice Priscilla Chigumba declared Mnangagwa the Aug 350 711, while his ust 23 elections winner with 2main rival, Citizens Coalition for Change (CCC) leader Nelson Chamisa garnered 1 976 343.
Chamisa's party has refused to endorse the results saying they are false.
However, the 80-year-old Zanu-PF leader maintained that he did not rig the elections.
"I can assure you that I did not conduct the elections. I competed with them in this race to win and I am happy that I have won. Those who feel the race was not run properly should know where to go and complain," Mnangagwa said.
"I am so happy that the race was run peacefully, transparently and fairly in broad daylight. I am happy that there was a huge turnout by our people."
He believes only a few people would judge the elections as having been marred by violence.
"No violence at all. That's what we should cherish and continue to maintain. This shows how mature our democracy is. It is possible, even in a family, not all children become obedient to the parents.
"The parents will do their best to teach culture to their children, but some continue to do otherwise but they still remain kids to the family," he said.
Although election observer missions described the elections as generally peaceful, they also said the plebiscite fell short of meeting regional and international standards.
The Southern African Development Community Election Observer Mission poked holes into the whole electoral process, angering Zanu-PF which attacked the observer group.
Another concern raised by the observers was the amendments to the Criminal Law (Codification and Reform) Act which they described as restricting some freedoms.
"I am aware that some observer missions went beyond their call of duty and began interrogating legislation passed by our Parliament. It is my view that every single sovereign country passes legislation through the legislature and Zimbabwe is not an exception," Mnangagwa said.
"I don't think it is in the mandate of election observers to interrogate institutions of a sovereign governments, the Judiciary, legislature and governance."
He insisted that the observers' mandate was only "to observe the transparency, peacefulness and conduct of elections which I am happy to say no one questions".
The President-elect said everyone was a winner in last Wednesday's elections.
"The elections have come and gone. I am humbled by the trust and confidence that you my fellow countrymen and women have reposed in me, to once again serve as President of our great country, Zimbabwe," he said.
"There is much more work to be done. Together, as one united people we shall continue on the growth trajectory witnessed over the last five years, no one or no place will be left behind."
Source - newsday