News / National
Joe Biden's Mugabe moment
04 Jun 2023 at 16:28hrs |
Views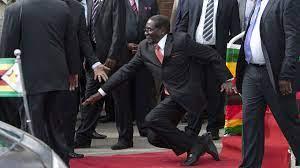 Joe Biden has tripped and fallen during a graduation ceremony at the US Air Force academy.
The American president, 80, was quickly helped up by three people, and walked back to his seat unassisted following the incident in Colorado.
Biden's fall was reminiscent of the similar Mugabe moment.
Robert Mugabe fell down a flight of stairs on his return to Zimbabwe from Ethiopia in 2015, in an incident captured on camera despite the best efforts of his security team.
The then 90-year-old President of Zimbabwe was making his way down from a raised podium at the airport when he appeared to miss a step and fell to the ground.
Face-first tumble! pic.twitter.com/y8FotpY3mV

— Bulawayo24 News (@Bulawayo24News) June 2, 2023
As the American leader was helped up, he pointed behind him, seeming to indicate what he tripped over.
White House communications director Ben LaBolt said Mr Biden was fine.
"There was a sandbag on stage while he was shaking hands," he said on Twitter.
Mr Biden, who stood for much of the hours-long ceremony to shake hands with graduates, appeared to trip over something and fell to his knees towards the end as he handed out the last diploma.
He was helped up by an Air Force officer as well as two members of his US Secret Service detail. Onlookers, including some members of the official delegation on stage, looked over in concern before the leader returned to his seat.
At the presentation, he gave salutes to the blue-uniformed graduates.
In his address in Colorado Springs to more than 900 cadets, the US commander-in-chief warned graduates they will enter service in an increasingly unstable world, citing challenges from Russia and China.
The Democrat president is running for re-election in 2024.
Speaking on the campaign trail in Iowa, the frontrunner for the Republican nomination next year, Donald Trump, said the fall was "not inspiring", adding the "whole thing is crazy".
For some Biden is a sage political operator - but for others he's simply too old for the job
In this politically charged country, the headline is either "He's fine" or "He fell (again)!"
Already, in Republican circles, the video is being circulated and used to back up the narrative that he is losing control, or has lost control, of his faculties.
There are plenty of voters in this country who believe President Biden's age is a real issue as he seeks a second term as president.
For Republican Party candidates, his age and his fitness for office is a clear, effective attack point.
The videos are out there: President Biden tripping up the steps of Air Force One or appearing to get lost walking to his helicopter outside the White House.
There are even more videos of him seemingly losing his train of thought in speeches.
His supporters say these are cheap shots. As president, he is subject to regular medicals. There is no evidence to suggest he is physically or mentally unfit.
He has battled to control a stutter all his life which supporters say explains his less than fluent delivery.
The photographs of this latest trip for the president clearly show a sandbag in his path.
Still - how much will all that matter?
For some, he is a sage political operator with decades of experience. For others he's simply too old for the job.
Those who want to use these moments against the president will do so more and more as next year's election approaches.
When told by an audience member that Mr Biden had fallen, Mr Trump, 76, said: "He did? He just fell on stage. He's at the Air Force academy. He actually fell down? Well, I hope he wasn't hurt. I hope he wasn't hurt.
"But... the whole thing is, look, the whole thing is crazy. You gotta be careful about that… even if you have to tiptoe down a ramp…
"Well, that's... that's a bad place to fall when you make it, I think it was the Air Force academy, right? That's not inspiring."
Doctors declared Mr Biden healthy and fit for duty after a physical examination in February.
The US president was also seen stumbling on a flight of steps at the Itsukushima Shrine in Japan during his G7 visit last month.
Source - online