News / National
Chivayo imports US$3.5 million super cars, mystery over new fortune
06 Jun 2023 at 19:59hrs |
Views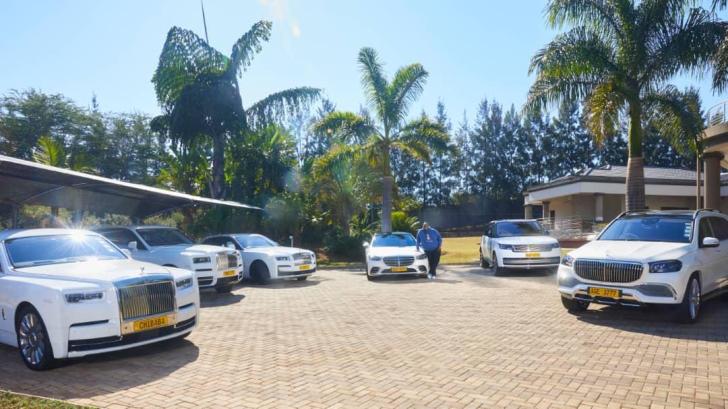 A new fleet of luxury cars imported by controversial businessman Wicknell Chivayo is turning heads in Harare.
In a four-week period in April and May, Chivayo imported four brand new Rolls Royce vehicles from London – and then splashed on a Mercedes Benz Maybach and a Range Rover from South Africa.
In boastful posts on Facebook, he claimed the vehicles cost a staggering US$3.5 million.
ZimLive understands the vehicles, which all now bear Zimbabwean registration, have attracted inquiries from the Reserve Bank of Zimbabwe's Financial Intelligence Unit.
ZIMRA sources say the vehicles paid around US$1.5 million in duty, all cash transactions.
The central bank has found no evidence the money used to buy the vehicles was transferred from Zimbabwe, raising questions about the 40-year-old's recent rapid acquisitions.
"Don't ask me about my personal life, it's irritating," Chivayo snapped when asked to explain his sudden splurge on high range cars.
Chivayo shot to national prominence in 2015 when his company, Intratrek Zimbabwe, was awarded a US$173 million tender to construct a 300MW solar power plant in Gwanda.
The Zimbabwe Power Company, a subsidiary of ZESA, subsequently accused Chivayo of failing to deliver on the project after he was paid US$5.6 million, and shopped him to the police for fraud.
Chivayo's acquittal, confirmed by the High Court, has left ZESA facing a US$22 million bill for breach of contract. The High Court gave ZESA an option to follow through with the original deal, but a spokesman said no new contract had been prepared for Intratrek and Chivayo – suggesting his splurge is not connected to the power utility.
His new fleet includes a Rolls Royce Phantom, a Rolls Royce Cullinan, a Rolls Royce Ghost, a 2022 Mercedes Benz S500, a 2023 Range Rover Autobiography and a 2023 Mercedes Benz Maybach GLS600 – all white in colour.
Chivayo's social media pages are filled with pictures of himself on trips to overseas destinations, including regular travels to Dubai, New York and London.
It remains a mystery how he has made his recent fortune, as Zimbabweans continue to struggle with power cuts, sometimes lasting up to 18 hours.
Associates have suggested Chivayo is reaping rewards for introducing Chinese company, CHiNT Electric, to several Africa markets. CHiNT was one of the companies backing Chivayo's solar project in Gwanda.
It is claimed contracts worth up to US$700 million have been signed between the company and several African countries including Zambia, Malawi, Tanzania and Kenya.
Chivayo's social media pages show him meeting former Zambian president Edgar Lungu and former Malawian President Peter Mutharika.
Source - zimlive