News / Local
Ngarivhume jailing sends shock waves
30 Apr 2023 at 09:01hrs |
Views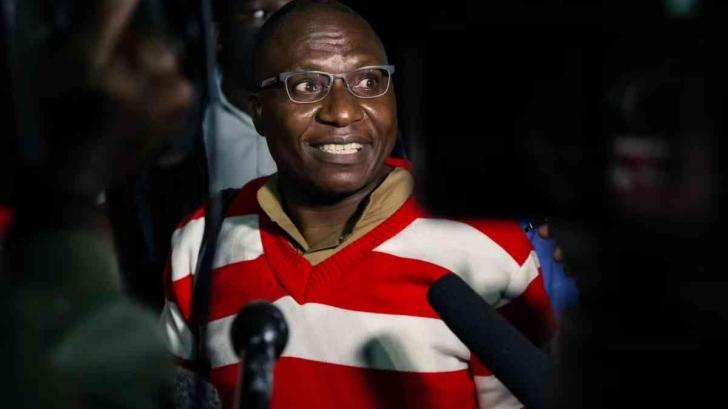 Six years ago President Emmerson Mnangagwa promised to transform Zimbabwe's politics, which he said "had become poisoned, rancorous and polarising".
After being sworn in to replace long time ruler Robert Mugabe following a military coup in 2017, Mnangagwa declared: "My goal is to preside over a polity and run an administration that recognises strength in our diversity as a people."
Fast-forward to 2023, the 80- year-old ruler appears to have thrown his pledge out of the window as he guns for his critics ahead of a crucial election between July and August.
On Friday, Transform Zimbabwe leader, Jacob Ngarivhume was jailed for effective three years for his role in organising the July 31, 2020 protests against corruption.
Ngarivhume became the fourth person to be convicted on charges related to freedom of expression, freedom to petition and to demonstrate this year after Citizens Coalition for Change (CCC) spokesperson Fadzai Mahere, author Tsitsi Dangarembga, activist Julie Barnes and church leader Parere Kanyenzura.
The convictions have sparked fears that Mnangagwa's regime has started clamping down on dissenting voices to aid his bid for a second full-term in office in the forthcoming polls.
Ngarivhume, who was the convener of the July 31 protests against corruption and poverty, spent months in pre-trial detention and was granted bail on his fourth attempt in September 2020.
Mnangagwa's government has been using pre-trial detention to hold those it perceives as enemies of the state behind bars.
According to the Open Society Foundations 2021 report on the social-impact of pre-trial detentions, the decision to detain a person before he is found guilty of a crime is one of the most draconian measures a state or an individual can make.
"A decision made in an instant by the arresting officer can have a severe, lasting, and adverse impact," the report reads.
"Whether or not it is justified, and regardless of whether due process is followed, the arrest is likely to have a traumatic effect on the detainee and those who love and depend on him.
"Pre-trial detention is one of the worst things that can happen to a person: the detainee immediately loses his freedom and can also lose his family, health, home, job, and community ties."
CCC said Ngarivhume's conviction and sentence was an assault on democracy.
"The conviction of political activist Jacob Ngarivhume after exercising his right to demonstrate is a violation of his fundamental human rights and an attack on democracy," the CCC said in a statement on Friday..
"It is unacceptable that citizens are being punished for peacefully expressing their views and calling for change.
"The right to peaceful assembly and protest is a fundamental human right that should be protected and respected by all governments.,
"We also call on the government to respect the rights of its citizens to peacefully protest and express their views without fear of intimidation, harassment, or arrest."
Vongai Chikwanda, the Amnesty International interim deputy director for southern Africa said Ngarivhume's conviction showed a sustained bid to silence dissent.
"Ngarivhume's sentencing is a cynical ploy to supress dissent and it is an abuse of the justice system to intimidate and harass opposition voices," Chikwanda said.
"Ngarivhume's conviction and sentencing show a growing crackdown on opposition leaders, human rights defenders, activists, journalists and other critical dissenting voices through abuse of the legal system.
"Authorities must stop weaponising the law to target opposition figures or anyone who speaks out against corruption."
Other cases of the weaponisation of the law since the coming in of Mnangagwa include the case of CCC activist Makomborero Haruzivishe's persecution.
He was charged with inciting violence for blowing a whistle during a protest in 2020, allegedly 'to alert protestors to revolt against the police.'
Another curious case was that of Mahere.
Mahere was recently convicted and fined US$500 for publishing falsehoods in a case involving a woman whose child was erroneously reported to have been struck to death by a Harare police officer while enforcing Covid-19 lockdown regulations in 2020.
In 2021, High Court judge Justice Jester Helana Charewa ruled that the law used to charge Mahere was invalid when dismissing a similar charge against journalist Hopewell Chin'ono.
Lawyer Siphosami Malunga said Ngarivhume was just exercising his constitutional right to peaceful protest and did not deserve to be behind bars.
"Section 59 of Zimbabwe's constitution provides that everyone has the right to demonstrate and present petitions and that these rights must be exercised peacefully," Malunga said.
"Ngarivhume exercised his constitutional right to peaceful protest and has been jailed for four years for doing so."
Academic Ibbo Mandaza described Ngarivhume's conviction as shocking and a symptom of the judiciary's decay.
"That's my reaction to the shocking news about Jacob Ngarivhume," he said.
Prominent lawyer Tendai Biti described the judgment as shockingly irrational.
"It's a gross assault on the basic right to protest codified in the constitution and a massive reflection of the paranoia and psychotic nature of this regime," Biti said.
Independent Norton legislator Temba Mliswa said Zimbabwe was fast moving into an autocratic state.
"The guilty verdict and four-year sentence for Ngarivhume is only the latest confirmation that all charades of democracy are being removed," Mliswa said.
"The courts have become a political front to fight opposition players and not a platform for justice and truth."
Political analyst Blessing Vava said the conviction showed that rule of law had broken down.
"I think we really need an independent commission of inquiry to look into the state of the judiciary, the people presiding over the magistrate courts are now clearly political," Vava said.
"The conviction is also meant to be a warning to activists and those critical to the government that you must not dare challenge the authorities."
Mnangagwa has been accused of shutting down the democratic space.
Today marks exactly 319 days since Zengeza West MP for CCC Job Sikhala was arrested for allegedly inciting public violence over the death of opposition activist Moreblessing Ali.
Sikhala was arrested on June 14, 2022 alongside fellow opposition MP Godfrey Sithole and 14 other residents of Nyatsime.
Since then, Sikhala has been held in protracted pre-trial detention at Chikurubi Maximum Prison in Harare.
A book released on Monday last week by Civic Society Organisations namely Southern Defenders, Zimbabwe Human Rights NGO Forum, Civic Space Network and Political Prisoners in Africa summed up the persecution of government critics and judicial capture using Sikhala as a case study.
The study is titled: Justice Delayed is Justice Denied: Persecution by Prosecution in the Case of Zengeza West Opposition Member of Parliament Job Sikhala.
It makes a comparative analysis examining how the courts have applied themselves in other public interest cases involving politically exposed persons with links to the ruling party.
"The political history of Zimbabwe characterised by repression of opposition politics and Sikhala's membership of the opposition makes suspicions rife that Job Sikhala and his CCC political party are being targeted for holding dissenting political views," the study reads.
"The situation is compounded by strong suspicions of judicial capture, which are based on the courts' seeming failure to apply the country's laws to every person consistently, equally and impartially regardless of stature or political affiliation."
Sikhala has been denied bail more than 10 times.
According to the constitution, bail is a fundamental right as provided in Section 50(1) (d) and the Criminal Procedure and Evidence Amendment Act [Chapter 9:07].
"The country's judicial precedence on bail is also rich," it reads.
"Judicial precedents and the facts in Job Sikhala's case in light of the charges of obstruction of justice levelled against him, make it difficult to understand why Job Sikhala continues to be held in prison and suspicions of selective application of the law.
"It is difficult to imagine that a judiciary is independent and impartial when it keeps a suspect in custody for 10 months on a bailable offence and in circumstances where others in similar circumstances have all been granted bail under the same incidence and same charges."
Mnangagwa's administration has been relentless in jailing critics, but reluctant to arrest Zanu-PF members involved in corruption charges, with those nabbed easily granted bail and their cases collapsing during the trial.
A notable example is Mnangagwa's niece and Zimbabwe Miners Federation boss Henrietta Rushwaya.
She was arrested on October 26, 2020 at the Robert Mugabe International Airport while attempting to smuggle six kilogrammes of processed gold to Dubai worth US$366 000.
Rushwaya was also named in a recent Al Jazeera exposé on gold smuggling and money laundering.
"An assessment of how the country's courts apply the law in cases involving whistleblowers/journalists exposing corruption, government critics, activists and persons who hold dissenting political views such as Job Sikhala, reveals a glaring trend of selective application of the law, which is even more evident when further assessed against how the courts apply themselves in cases involving high profile politically exposed persons linked to the ruling political party and accused of arguably more serious crimes," the Sikhala case study reads.
"Examples are the cases of the Gokwe Nembudziya legislator Justice Mayor Wadyajena; former Health minister Obadiah Moyo; former Local Government minister Ignatius Chombo and Henrietta Rushwaya.
"This reinforces strong views about judicial capture and selective application of the law."
Source - The Standard