News / National
Zanu-PF weary of clandestine Mnangagwa affiliate groups
04 Mar 2023 at 08:19hrs |
Views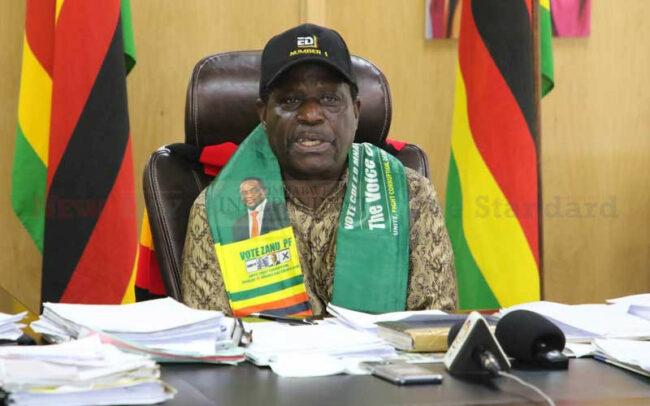 ZANU-PF National Political Commissar Dr Mike Bimha has warned the mushrooming 'For ED' outfits to desist from blindly creating affiliate groups without a clear party purpose.
The 'for ED' groups which are dotted around the country include the cyber team Varakashi for ED, Young Women for ED, Vendors for ED, Born Frees for ED, Vapostori for ED, Teachers for ED to name a few.
Dr Bimha told a party gathering in Mutare last Friday that ZANU-PF members should desist from gathering affiliate members with a blind eye saying the opposition is orchestrating plans on how best they can infiltrate the ruling party through the formation of furtive and covert ED affiliation groups.
"As a party we want affiliates to prosper and make money. We encourage our affiliates to come up with properly set projects so that we support you. However, party members can not all of sudden form affiliate groups by simply gathering a group of people. The opposition is aware of the impact of affiliation groups. The yellow opposition is targeting to intrude party structures by carefully placing undercover members within our affiliate groups," said Dr Bimha.
He added that each and every affiliate group should have a set of objectives and a respective constitution so that the party knows the true nature of the groups.
"Affiliates are there to support President Emmerson Mnangagwa and the party as a whole. It's very important that we know your plan, set objectives and the leadership of those affiliates. The opposition led by Nelson Chamisa is at work and these are some of the loop holes open for manipulation," he added.
Chairman for Manicaland Province Mr Tawana Mukodza said that support was needed for the prosperity of affiliate groups.
"We thank the leadership for their presence. Affiliate groups present here need your support because they are inclusive of every sector.
Other affiliate groups which were part of the event were Affirmative Action Group (AAG), Men BelievED, Pastors for ED, Preachers for ED, Mahwindi for ED, Artists for ED, Teachers for ED, Cross Borders for ED, Trees for ED, Sports for ED and Vapostori for ED.
Source - TellZim News