News / National
Woman shot outside Cape Town court was Zimbabwean witness to murder
04 Jun 2023 at 14:25hrs |
Views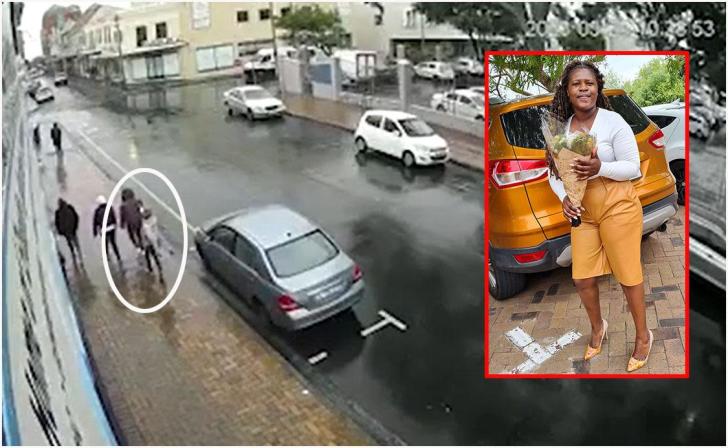 A woman shot dead outside a courthouse in Cape Town, South Africa, on May 25 was a 30-year-old Zimbabwean who was a witness against a man who killed her friend, ZimLive revealed.
In a viral video, Christine Yolanda Gumira, a mother-of-one, is seen wearing a hoodie walking on a street with two others before a man casually approaches from behind and shoots her in the head.
South African police said they have arrested four suspects over her killing.
Gumira's relatives said she had reported threats against her life to police but she had not been offered any protection.
"I strongly feel the South African state failed her. She told police that she was getting threats from the people that killed her friend, they told her that if she continued testifying they were going to kill her," Gumira's niece Mollyn Matangambiri told ZimLive.
On Friday, Cape Town provincial police spokesman Lieutenant Colonel Malcolm Pojie said: "Investigations by a dedicated integrated team comprising detectives from the provincial office and Wynberg detectives has landed four suspects behind bars in connection with the murder.
"The victim was [shot dead] after leaving the court building en route to the taxi rank. The investigation took the team to different locations within the Cape metropole, where they conducted tracing operations and arrested the four suspects after they were positively linked to the murder through investigation and forensic evidence.
"Police also seized a silver Nissan Tiida as well as cellular phones that will be analysed."
Pojie said the suspects, aged between 24 and 33, are to appear in the Wynberg magistrate's court on Monday.
"Due to the sensitive nature of the investigation, no further details will be divulged."
Gumira's body will leave Cape Town on Monday for burial in Mhondoro Ngezi, Mashonaland West.
Matangambiri said Gumira had plans to move to New Zealand to join her boyfriend this month.
She became a witness after watching her ex-roommate being shot and killed by her boyfriend.
"Her friend's killer went to a house where they were both living demanding to see her friend, who had moved house because the boyfriend was abusive. The man, who was armed, told Christine that he would shoot her son if she didn't take him to where her friend had moved," Matangambiri said.
"In fear, she took him to her friend's new residence. Her friend was shot in front of her and she was threatened with death if she told police or cooperated with law enforcement. Police convinced her to testify in the murder trial and sure enough they killed her."
The family has appealed for assistance for Gumira's 13-year-old son, whose father is unemployed.
Please contact the boy's aunt on +263 77 112 6614 (direct calls) or WhatsApp +44 7581 060144 with any help you can give
Source - ZimLive