Opinion / Columnist
Chamisa says CCC is 'Wapusa Wapusa'
24 Sep 2023 at 15:57hrs |
Views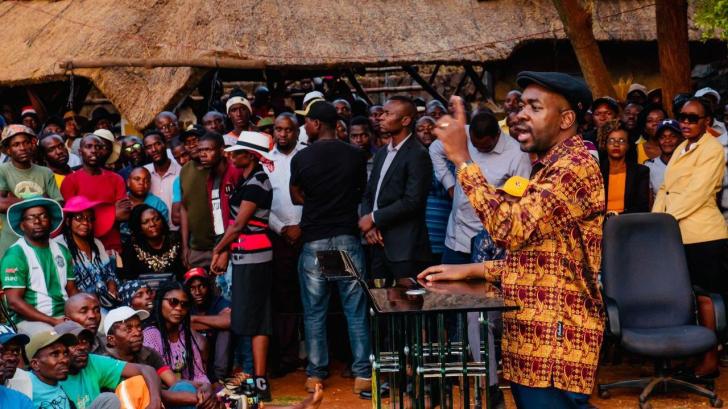 NELSON CHAMISA SAYS CCC IS A 'WAPUSA WAPUSA CITIZENS MOVEMENT' WITH NO POSITIONS, NO STRUCTURES [HENCE NO CONSTITUTION] AND NO CONGRESS
Chamisa says CCC is 'Wapusa Wapusa' pic.twitter.com/KQBDsyADHV

— Bulawayo24 News (@Bulawayo24News) September 24, 2023
Below is a transcription of the attached Chamisa audio:
"That's why muchiona vanhu veZANU PF havazivi, heee party yake, heee, iyi hamuigoni iyi, yasiyana nenguwotsvuku yeMDC, iyi yakapenga iyi.
Ehe, hauione kuti musoro wacho uri papi, hauione kuti makumbo ayo ari papi. Unoda kuti nhingi ndiye anofanira kunge ari papi, aah aah, kwedu hakuna zvigaro, iwapusa wapusa tinozivana murima imomo.
Tiri kutofambaso, tinozivana kuti anenge ari kwakati ndiani. Mt Darwin zvikanzi mirai apa, inotomira ikoko, pakanzi paMukumbura inotomira ipapo, pakanzi Mushumbi Pools inotomira ipapo, pakanzi Guruve...., tinozivana takadaro, saka iwe kana usingatizive uchatiziva. We are going to move as a Citizens Movement.
Hee, what what, what what Congress, Congress ndeyei, pachedu, tichaita nguva yatinoda, and Congress tisu takatopedza mamiriro atakaita ndiwayo. Saka haaa, pakai steady maZANU, iyi hamuiti zvamakaita iya iya, zvekuti yatsemuka, haitsemuki, ndaa tinokubvunza kuti iwe ndiani, tipe card rako, wakapuwa nani membership, musi waani, wakaitenga kupi, asi tinenge tichiimba citizens, citizens." - Nelson Chamisa
English translation
That's why you see ZANU PF people don't know what's happening. Hee, his party this, his party that, you won't do anything to this party, it's unlike MDC, this one is complicated.
Yes, you won't see where its head is, you won't see where its legs are. You want some people to occupy certain party positions, No, in our party there are no positions, its "wapusa wapusa", we know each other in that darkness.
That's how we are working. We know each other, we know who is where. If it's in Mt Darwin, and we say stand here and represent us, that's what happens; the same thing in Mukumbura, in Mushumbi Pools or in Guruve, we know each other, the way we are. If you are confused and you don't know us, but you will get to know us. We are going to move as a Citizens Movement.
Hee what what Congress. Congress, what for? This is our thing, amongst us. We will go for Congress at our own time. We are already a Congress, our structure is what we are. So be steady, you ZANU PF people, you will not do to this party, what you did to that other party. You want us to split, but we will not split; not least because no one has a position or membership. If you say you're a member, we will ask you to give us your card, and to tell us who gave it to you and where you bought it from; meanwhile we will be singing, "citizens, citizens" - Nelson Chamisa
COMMENT:
Although he refers to "Zanu PF people", it is clear that Chamisa is primarily if not only dealing with internal CCC issues likes positions and Congress, etc.
If the position is as covered by Chamisa; namely that CCC is a "wapusa wapusa citizens movement' with no positions: therefore no leader, no constitution and no structures, what then is the legal status of Triple C?
Is CCC a universitas?
As things stand, and as described by none other than Nelson Chamisa himself, and as exemplified by the intolerant, uncouth and abusive character and content of its base, CCC has all the trappings of a Jim Jones-like cult!
Source - X
All articles and letters published on Bulawayo24 have been independently written by members of Bulawayo24's community. The views of users published on Bulawayo24 are therefore their own and do not necessarily represent the views of Bulawayo24. Bulawayo24 editors also reserve the right to edit or delete any and all comments received.