News / Local
Mnangagwa saves humiliated Zanu-PF allies
09 Apr 2023 at 11:32hrs |
Views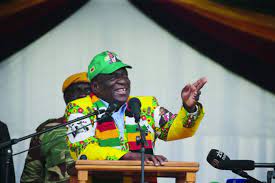 PRESIDENT Emmerson Mnangagwa ignored recommendations by a Zanu-PF special ad-hoc committee charged with dealing with the party's primary election disputes to save allies who suffered humiliating defeats.
Zanu-PF recently conducted its primaries where several heavyweights were thumped by new comers.
A number of losing candidates were not happy with how the elections were conducted, and accused the shadowy Friends Association of Zimbabwe, which has links with the Central Intelligence Organisations of rigging the polls.
The party responded by appointing a special-ad-hoc tribunal chaired by the Zanu-PF secretary for legal affairs advocate Jacob Mudenda to vet the complaints.
Sources in the ruling party said Mnangagwa had special interest after some of his allies such as Justice minister Ziyambi Ziyambi and Mayor Wadyajena lost in the primaries.
Mnangagwa also had special interest in the case of the Information Communication Technology minister Jenfan Muswere who lost to Moses Ruwona in Makoni West.
Ruwona has since been disqualified.
There are going to be re-runs in Ziyambi's Zvimba West and in Gokwe-Nembudziya where Wadyajena lost.
"The special ad hoc tribunal committee was created by the politburo to deal with preliminary electoral matters on behalf of the politburo, but did not have the final say," sources said.
"The politburo has the final say. The ad hoc committee only communicates findings and makes recommendations.
"There were instances where Mnangagwa ignored recommendations of the committee and personally dealt with some matters involving his allies."
Another source said: "The committee was sharply divided on candidates, who had lost the elections with indications that they were defeated but the president ignored the recommendations."
Some sources accused the committee of not being independent.
"The special ad-hoc tribunal committee had interest in the elections, but it was a toothless dog as crucial decisions were made by the politburo," an insider said.
Addressing journalists last week, Zanu-PF national political commissar Mike Bimha said the committee sat several times to deliberate on the complaints.
"They entertained all the complaints," Bimha said.
"They had four sessions, some of them held deep into the night and all complaints were considered by the ad hoc committee led by Mudenda."
Some ministers and seasoned politicians were defeated in the polls.
Deputy ministers Kindness Paradza, John Mangwiro, Mike Madiro and Marian Chombo also suffered humiliating defeats.
The ruling party is going to conduct reruns in Insiza South , Mbare, Churu, Gokwe Nembudziya and Zvimba West.
Source - The Standard