News / National
Mnangagwa sets tough conditions for poll observers
20 Mar 2023 at 10:40hrs |
Views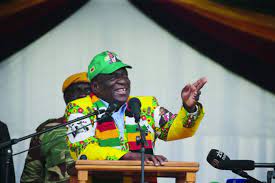 PRESIDENT Emmerson Mnangagwa says foreign observers will be invited to oversee this year's polls on condition that they do not meddle in the country's electoral processes.
Zimbabwe will hold its harmonised elections mid-year. Mnangagwa is yet to proclaim election dates.
Writing in his column in a local weekly newspaper, Mnangagwa said he would formally invite the international observers after proclaiming election dates, but warned that he would not tolerate 'undue interference' in the country's electoral processes.
"Sometime this year, we will go for our harmonised general elections. As I write, everything is being done to ensure everyone who wants to vote in the forthcoming elections is facilitated. Our elections will be free and fair, and will be conducted in an atmosphere of space and tranquillity.
"Government will formally invite foreign observers once I have proclaimed dates for the harmonised elections. We view elections as yet another plank for anchoring and furthering our global diplomacy, as well as re-confirming our commitment to international tenets on democracy. We, however, will not entertain undue interference in our electoral processes which should remain sovereign," Mnangagwa said.
But critics raised concerns over the conditions set by Mnangagwa, saying he was likely to use that to bar observers from so-called 'unfriendly' countries.
Zimbabwe Election Advocacy Trust executive director Ignatious Sadziwa said: "Observing elections actually means that you have to be involved in every process. You can't be invited for elections and then get told that you can't interfere. In other words Mnangagwa is actually saying that they are not welcome to observe elections."
Elections Resource Centre programmes manager Solomon Bobosibunu said the main role of international observers is to document and make some recommendations.
"The practice internationally is that depending on the rules of the government that is hosting a particular election, international observers are meant not to interfere in the process of elections. They are different from monitors. So here in Zimbabwe we have observers and their role is to simply watch the process, document, and make some recommendations and a report.
"Our main concern would be when these observers are going to be invited so that we allow them to have more time to interact with the locals and other electoral processes so that they comprehend what's happening. Actually they should have started on the primary elections so that they make recommendations."
Recently, the European Union said it is ready to send its election observer missions to Zimbabwe to ensure the country holds free and fair elections.
The EU said free polls will guarantee the bloc's increased economic development support to Zimbabwe. In 2020, Mnangagwa hinted that Zimbabwe might in future not invite foreign observers during local elections, saying the Malawi presidential elections had proved that they were not necessary.
Source - newsday zimbabwe