News / National
Chamisa content with 'flawed' delimitation
02 Apr 2023 at 11:16hrs |
Views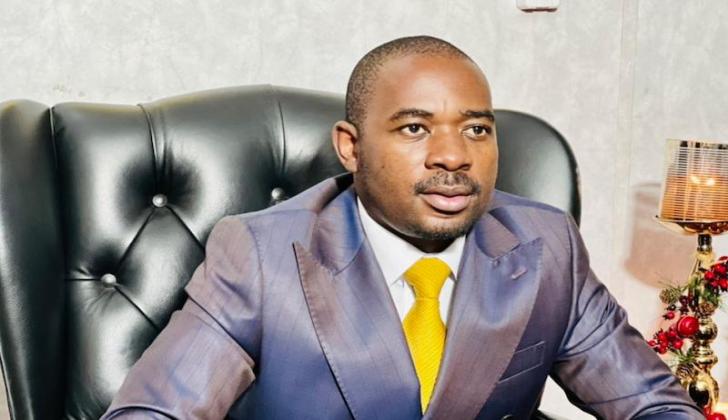 Citizens Coalition for Change (CCC) president Nelson Chamisa said he is content with the gazetted delimitation boundaries, saying he was aware the process was however flawed, vowing that it will not stop his party from winning this year's harmonized elections.
Chamisa met with the party's provincial representative members at Masvingo Urban ward 5 Councilor Daniel Mberikunashe's homestead in Pangolin last weekend.
He said he will win with all those anomalies especially the presidential election which only had one boundary.
He mocked MDC leader Douglas Mwonzora and President Emmerson Mnangagwa for complaining over the new boundaries saying they wanted to delay elections so that they stayed in power for a little longer since they knew their time was over.
"I saw my brother (Mnangagwa) is afraid of elections that's why he asked his fellow (Mwonzora) to contest the gazetted delimitation report so that they delay elections and remain in power a bit longer. We are not afraid of the election that's why we said delimitation was not done well but we are used to their tactics. For the first time, I heard my brother (Mnangagwa) complaining about ZEC and that's a sign. The president has one boundary; even if he wants to include those from Mozambique I will still defeat him there.
"I have said our position, even if they move rural wards to urban or vice versa, we will still win because we are everywhere, even in resettlement areas we are there," said Chamisa.
Chamisa told supporters to advise new recruits that they should not be afraid of being intimidated especially by traditional leaders because after elections Zanu-PF will no longer be in power so they will not be able to victimize them.
"I have seen my brother is struggling a lot, he still has the 2018 defeat shock and he is only being strengthened by Chiwenga but he knows our strength. Zanu-PF relies on traditional leaders mainly village heads, but I am also talking to them.
"However, be careful of them because they are the ones who lie that they will see who you vote for, don't listen to that, after election the situation would have changed and we will arrest those who victimize others because Mnangagwa will not be in power," added Chamisa.
He went on to say as a party, they were focusing on being an alternative government saying they will soon produce a blueprint with strategies on how they were going to improve infrastructure, ICTs, Agriculture and the economy in general.
He said they had already done all the homework and know where they will get the money to do what has to be done once they get into power.
Speaking at the same event, the party's national organizing secretary Amos Chibaya urged party supporters to continue implementing the mango strategy and mugwazo saying it was bearing fruits in many areas.
He however said in Masvingo, the party still had challenges in penetrating some areas and said constituency representatives should work hard.
"Let's continue using the mango strategy, we now work at village level, all champions should operate in their areas where they interact with their relatives. Go in their homes and sit down then talk to them. Tell them to attend Zanu-PF gatherings and accept whatever they give you but just know where to put your X on the voting day.
"The strategy is working. I have been getting in some deep rural areas and people now know. However, in Masvingo we still have challenges in Mwenezi and Chivi, then some parts of Chiredzi and Zaka but we are getting there," said Chibaya.
Of late, police seem to have relaxed their clamp on opposition a bit as they are seen gathering and addressing supporters.
Source - TellZim News