News / National
Ramaphosa building a concrete border wall between SA and Mozambique
24 Apr 2023 at 09:13hrs |
Views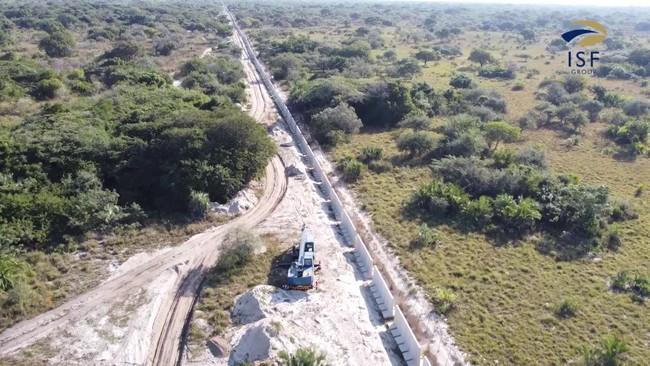 The KwaZulu-Natal Provincial Government had made a decision to resume construction of a concrete wall long the South Africa/Mozambique border to curb the theft of motor vehicles and the movement of illicit goods.
The Provincial Executive Council announced this week that anti–crime fighting operations will be intensified in the province, as announced by Premier Nomusa Dube-Ncube in the State of the Province Address. Combatting cross-border crimes is high on the agenda, especially as most smuggling of stolen vehicles happens along the border with Mozambique, of which KwaZulu-Natal shares an important portion.
The Council said that government's effort of addressing the scourge of cross-border crime has been strengthened following the exco decision for the Department of Transport to resume the construction of the concrete wall. The concrete barrier wall will be constructed between uMkhanyakude District and the Mozambique border.
Following the termination of the previous contractor, the Council announced that the Department of Transport has assessed the status of the project and developed a schedule for the resumption of the crime fighting construction project.
The Council said it remains resolute to take the war to criminals in pursuit of ensuring safety and justice in the province and beyond its borders.
The brazen criminality in northern KwaZulu-Natal has among others claimed the lives of two prominent crime fighting activists, Judah Mthethwa and Sandile Tembe who were leading the fight against cross border crime.
Both Mthethwa and Tembe were gunned down by unknown assailants in separate incidents.
In late 2020, the KwaZulu-Natal Department of Roads and Transport, working and financing in conjunction with the national Department of Public Works and Infrastructure (DWPI), committed R50 million for the manufacture and positioning of 156 concrete barrier units along an eight kilometre stretch of border between South Africa and Mozambique. The project was expected to cost in the region of R86 million. The 8 km project had been placed on hold pending completion of a Special Investigative Unit investigation into the R85.7 million tender awarded to ISF Construction and Shula Construction by the KZN Department of Transport. The project came to an abrupt halt after only 166 metres of jersey barriers had been installed and R48 million had been paid to contractors, Daily Maverick reported.
The new concrete jersey barriers were positioned in places identified by SA National Defence Force soldiers on border protection duty as high use and potential high use ones by vehicle thieves.
Nearly ten years ago the area was noted as a hotspot for stolen vehicles to be taken out of South Africa. Intelligence collected by soldiers on patrol and from local residents assisted in identifying specific areas used by vehicle thieves and led to what an SA Army officer later called "a light bulb moment" to install first rock barriers and then concrete barriers.
Source - defenceWeb