Search / Zumbane
IT is my pleasure to tell our own Zimbabwean story about one of our local plants and its benefits.In my early years as a growing scientist, I realised that if I wanted to find out about our lo...
Published: 03 Feb 2021 at 06:24hrs | 2898 | by Michael Bhebhe
TRADITIONAL herbs and steaming have become popular home remedies against Covid-19 which has killed 772 people in Zimbabwe. Social media platforms are daily awash with messages on the efficacy ...
Published: 18 Jan 2021 at 05:53hrs | 803 | by Staff reporter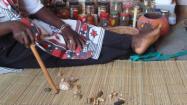 PRESIDENT of the Traditional Medicines Practices Council (TMPC) Friday Chisanyu has cautioned against herbalists and traditional healers who were claiming to have herbs that cure COVID-19.The ...
Published: 15 May 2020 at 07:40hrs | 1353 | by Staff reporter
Load More Stories