News / National
Fresh uproar over Zec report
28 Feb 2023 at 10:49hrs |
Views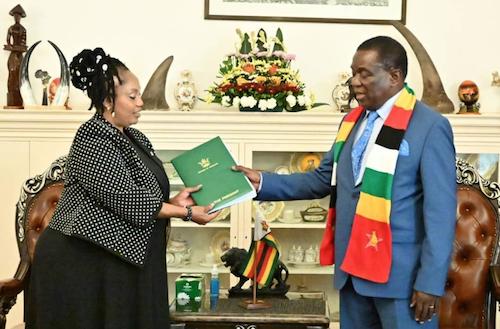 CONSTITUTIONAL experts and opposition parties have renewed their onslaught on the recently gazetted Zimbabwe Electoral Commission (Zec) delimitation report, describing it as constitutionally unusable for the forthcoming harmonised polls.
They also called for the dissolution of the current Zec board for failing the nation.
Pointing to section 161(3) and (4) of the Constitution, which states that wards and constituencies should as far as possible have equal numbers of voters, the experts said it would be a constitutional fraud to the wards and constituencies gazetted last week by President Emmerson Mnangagwa.
Section 161(3) and (4) reads: "The boundaries of constituencies must be such that, so far as possible, at the time of delimitation equal numbers of voters are registered in each constituency within Zimbabwe."
Legal experts said the Zec delimitation report falls far short of meeting these constitutional requirements.
"Some constituencies, as rightly pointed out by legal think-tank Veritas, have a marginal difference of 33% and are unconstitutional. Take, for example, the two metropolitan provinces of Bulawayo and Harare; two constituencies taken at random - Mpopoma-Mzilikazi in Bulawayo (22 125 voters) and Mt Pleasant in Harare (33 153 voters) - vary by about 33%, far above the permissible variation," constitutional law expert Admire Gweru told NewsDay.
MDC leader Douglas Mwonzora, who is also a lawyer, said Zec misunderstood the 20% variation and ended up using the 40% variation, which is unconstitutional.
"There were arbitrary allocating figures of the constituencies. The Constitution provides that 20% should be the variance between constituencies, but Zec used 40% because it misread the section," he said.
The flawed Zec delimitation report is being challenged in the courts, and political leaders said if the country is forced to use the 2008 boundaries for the elections expected in July or August, then the electoral body should be sued for wasting taxpayers' money and the Zec commissioners should resign.
Renewal Democrats of Zimbabwe party leader Elton Mangoma, who made a contribution during a Project Vote 263 Twitter discussion at the weekend, said Zec's delimitation report was unconstitutional.
"So clearly what Zec has done is unconstitutional and, therefore, what has been gazetted is an unconstitutional delimitation (report). That delimitation cannot be allowed to stand. We now have an immediate remedy that if there is a failure to delimit, then the boundaries used in the last election prevail," Mangoma said.
"So the boundaries used in 2018 elections are the boundaries that must be used as of now because the current one is a disaster. But we now have a situation where Zec has failed to deliver on one of its major duties. And, therefore, when people fail to deliver their duties, there is no option, but to resign because this is gross incompetence."
He added: "A new Zec board should come in and do a proper delimitation in line with the constitution. Clearly, we don't see any other way to use what has been provided by Zec and is now gazetted. It is practically tearing the Constitution apart. Clearly, the anomalies are very plain for everyone to see. These are the disparities that cannot be allowed to go through. So the error or deliberate manipulation that has been done is up to people's own judgments. Using the wrong numbers, the wrong basis has prejudiced a good number of constituencies."
People's Unity Party leader Herbert Chamuka said the flawed delimitation report showed that the current crop of commissioners could not run a free and fair election.
"With the time left, it's obvious that the new delimitation report cannot be fixed to meet election timelines. The whole process is going down the drain and is wasting taxpayers' money. Zec was given recommendations by Parliament and decided to ignore them. The whole electoral body should be disbanded," Chamuka said.
Zec spokesperson Jasper Mangwana refused to comment on the matter and referred all questions to chairperson of the electoral body, Justice Priscilla Chigumba, who was not picking up calls yesterday.
Source - Newsday Zimbabwe