News / National
Zimbabwe army to recruit, train more women
06 Apr 2023 at 06:40hrs |
Views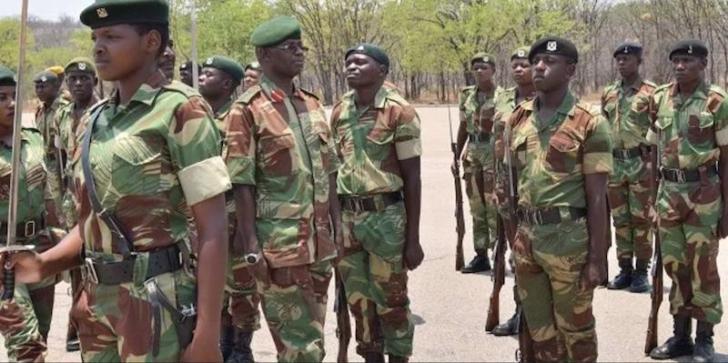 COMMANDER of the Zimbabwe National Army (ZNA), Lieutenant-General David Sigauke, has said they will continue to train and recruit more women as they have proven to be dedicated, competent and determined to serve the country.
Zimbabwe is a signatory to international conventions that call for gender equality in all spheres of life and the commitment by the army to recruit more female trainees resonates well with the gender equality calls.
Speaking during a passout parade for ZNA recruit intake 36A/01/22 at Recruit Training Depot at Mbizo Barracks on the outskirts of Bulawayo yesterday, Lt-Gen Sigauke, who was the reviewing officer, commended female trainees for matching their male counterparts, saying it is an indication that women are breaking the barriers into previously male-dominated terrains.
A total of 1 975 military trainees comprising 1 639 males and 336 females graduated during the pass-out parade.
When the recruits started their training programme on July 29 last year, there were 2 000 of whom 339 were females while 1 661 were males.
A total of 24 recruits, comprising 22 males and two females failed to complete the course for one reason or another, while one female recruit passed on during the course of her training.
"Pursuant to the gender mainstreaming thrust, the passing out of 336 female graduands is a clear testimony that the Zimbabwe National Army continues to give equal opportunities to the girl child.
"You are aware that Zimbabwe is a signatory of international conventions that call for gender equality in all spheres of life," said Lt-Gen Sigauke.
"In this regard, ZNA will continue to recruit and train the girl child as they have proven to be dedicated, competent, and determined to serve Zimbabwe."
Lt-Gen Sigauke said the graduation was a milestone for the army and is in line with its constitutional mandate of defending the country's territorial integrity, independence, and sovereignty.
He said the passout parade is also a huge achievement to the graduands as it marked an end to the gruelling training.
"The rigorous training has transformed the graduands from civilian life into military professionals who volunteered and committed themselves to serve the people of Zimbabwe.
"The young men and women on parade were recruited from all the provinces and districts of our great nation which clearly defines the national character of the ZNA," said Lt-Gen Sigauke.
"This inclusive approach resonates well with His Excellency, the President and Commander-in-Chief of the Zimbabwe Defence Forces, Dr ED Mnangagwa's clarion call of leaving no one no place behind.
"I therefore deeply appreciate and remain ever grateful to the traditional leaders, parents, and stakeholders for always responding positively to our call for recruits to join the military."
Lt-Gen Sigauke said the overwhelming response is a clear demonstration of the enduring symbiotic relationship that exists between the people of Zimbabwe and their defence forces, a relationship that dates back to the days of the bitter armed struggle that ushered in the black majority rule.
He said the training is designed to produce a patriotic general duty soldier earmarked for employment as rifle men or rifle women in Infantry Battalions charged with the responsibility of protecting Zimbabwe, its people, its national interest, its territorial integrity, and upholding the constitution.
"The code of conduct given to you should be the guiding beacon of your conduct throughout your career in the Zimbabwe Defence Forces," said Lt-Gen Sigauke.
He warned the recruits against indiscipline and said the army had zero tolerance to wayward behaviour within its rank and file, saying such elements would be ruthlessly dealt with.
"Be informed that there is no lenience to members who commit offences such as absence without official leave, theft, robbery, illegal panning, extortion, and drug and substance abuse, among others. Once involved in indiscipline cases, you will face the full wrath of the law as spelt out in the Defence Act and related statutory instruments," said Lt-Gen Sigauke.
The graduates went on a 36-week training course that covered subjects such as weapons, map reading, field craft, minor tactics, foot and arms drills, range work, voice procedure, first aid, civil-military relations, military law, and conventional and low-intensity operations.
The subjects, said Lt-Gen Sigauke, were meant to foster key attributes of loyalty, patriotism, and sacrifice which are indispensable in building a formidable army that is renowned for its acclaimed reputation within the region and beyond.
Lt-Gen Sigauke said the graduands must never lose sight of the fact that the country has a long and rich history that needs to be passed on from one generation to another.
"On this note, you are therefore required to have a full understanding of your role in defence of our country's national interest from both internal and external threats," he said.
The passout parade was also attended by ZNA Bulawayo District commander Colonel Ossie Olie Mhandu, Rtd Commander Lt Colonel Munyaradzi Marimbindi, various infantry battalions commanders, senior army commanders from the army headquarters, Chief Ndondo from Mbembesi, Chief Pashu and Chief Saba, both from Binga.
Source - The Herald