News / National
New-look fastjet readies for the runway
20 Apr 2023 at 07:28hrs |
Views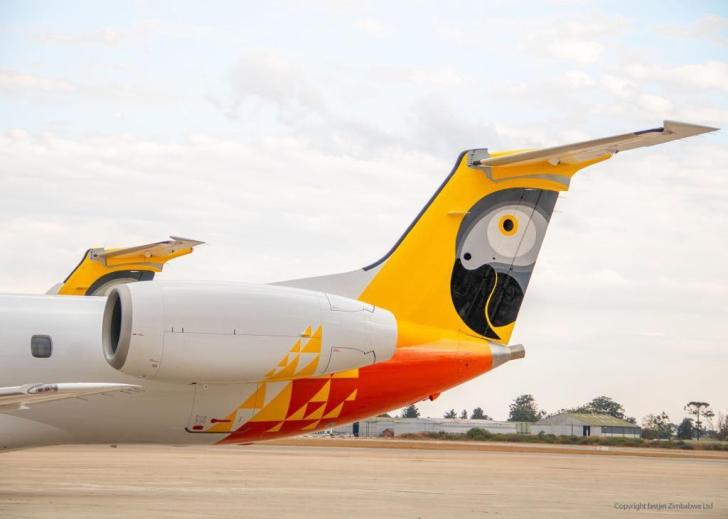 FASTJET Zimbabwe, the value-based airline, yesterday unveiled its new uniform designs marking the airline's readiness for the runway.
fastjet's new uniform, representing a modern and smart look that captures the airline's brand identity, will be worn by its ground staff and aircrew across all its bases in Zimbabwe and South Africa from today.
The airline's new uniform continues to feature the signature yellow and grey colour scheme elements that have made it an iconic piece over the years, incorporated into a restyling that combines a traditional look with contemporary fashion characteristics.
A patent yellow runway stripe on the new cabin crew dress is a timeless pattern, creating a prominent presence for inflight crew. The distinctive speedmark, a recognisable part of the aircraft livery, features in the scarves worn by the female staff, and is represented by a yellow triangular fold on the cabin crew jacket collars and sleeve folds.
In addition, the female cabin crew will wear stylish grey or yellow aprons when performing service duties, whilst male cabin crew will sport a modern cut grey waistcoat with subtle yellow features.
Male crew and ground staff uniforms have been favourably replaced with a classic grey suit, boldly distinguished with the iconic yellow scarf for females and a bespoke tie for the male staff, which features the airline's mascot.
In keeping with the cabin crew jacket design, the shorter jacket design has followed on trend for all-female jackets.
The fastjet signature features introduced on the new uniform include subtle changes to the design of grey suits worn by the pilots, championing the importance of gender diversity amongst the staff.
Fastjet group chief operating officer, Mr Donahue Cortes, said: "Our new uniform has been designed to make our staff feel proud, comfortable and empowered, ensuring they stand out and excel in every environment.
"Over the past year, we have worked closely in consultation with different departments and colleagues within the business to design a functional, practical and distinguishable uniform. "This uniform considers the varying working conditions of our staff while maintaining compliance with the relevant requirements."
Mr Cortes added that in designing the new uniform, they focused on their corporate colour palettes whilst introducing some of their most distinctive branding elements, such as the livery speedmark and their well-known mascot.
"Using bespoke fabrics with enhanced breathability capabilities, we are bringing back classic elegance with a smart modern look and some fun elements such as branded socks that will become a signature statement for our staff," said Mr Cortes.
Mr Nunurai Ndawana, fastjet Zimbabwe spokesperson, said: "A uniform is a key element of any brand identity and often creates the first impression. We welcome this uniform that embodies elegance and functionality while maintaining the stylish signature touch that fastjet uniforms are known for."
Source - The Herald