News / National
Mnangagwa losing grip on Zanu-PF
26 Apr 2023 at 20:07hrs |
Views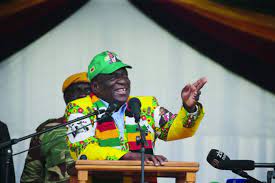 DEFEATS of President Emmerson Mnangagwa's close allies in Zanu-PF primary elections is an indication the embattled Zimbabwean leader is losing grip on the ruling party and power struggles could erupt ahead of this year's general polls, political analysts have said.
Mnangagwa's acolytes who fell by the wayside during Zanu-PF's internal elections include Justice minister Ziyambi Ziyambi who failed to bounce back even after having been given a second chance in a re-run.
"Lady of Steel" Mercy Maruva-Dinha humbled Ziyambi in Zvimba West constituency after she beat the Justice minister by a margin of over 3 000 votes.
From the 24 polling stations dotted around the expansive rural constituency, Maruva-Dinha tallied an unassailable 6 022 ahead of Ziyambi's 2 831.
Several other allies of Mnangagwa suffered humiliating defeats during the primaries and they include the chairperson of Parliament's Portfolio Committee on Agriculture, Justice Mayor Wadyajena, who was humbled in Gokwe-Nembudziya by former cabinet minister Flora Bhuka.
Sources said Wadyajena had become unpopular in the constituency because of the Cottco US$5 million scandal he was implicated in as well as his role in conniving with the company to pay cotton farmers with groceries instead of cash.
Wadyajena was also accused of not returning to the rural constituency often for feedback meetings while other sources say his opponent Bhuka was bankrolled in her campaigns by business mogul Kuda Tagwirei.
In the run-up to the primary election, Wadyajena had boasted he would win resoundingly.
Sources told The NewsHawks that he lost the re-run after the third contender pulled out and told his supporters to rally behind Bhuka.
Other allies of Mnangagwa who lost out in the primaries are Matabeleland South provincial minister Abednico Ncube, Deputy Information minister Kindness Paradza, and Trade minister Sekai Nzenza.
Tourism minister Mangaliso Ndlovu pulled out of the race. Political analyst Professor Eldred Masunungure told The NewsHawks that the defeat of Mnangagwa's allies confirms the presence of strong forces that are backing his deputy Constantino Chiwenga.
"The scenario of a defiant anti-ED political and voting which mood saw the jettisoning of the President's acolytes suggests the existence of a powerful coalescence of forces aligned to No. 2 (Chiwenga) and the former G40 formation.
"It demonstrates that the omnipresent '4ED' outfits are not as potent as its creators and benefactors envisaged. It is not clear though whether this sentiment expressed in the primaries will contaminate the presidential elections in August or it was an ephemeral phenomenon.
"Whatever the case, the President needs to tighten his boots and plug the many loopholes that were exposed by the primary elections. After all, a chain is as strong as its weakest link," said Prof Masunungure.
Political analyst Vivid Gwede said: "The loss by key allies of President Mnangagwa in the Zanu-PF primaries, including ministers and members of Parliament - some even had to be afforded re-runs - suggests the unpopularity of his protégés and, by extension, the uncertainty of his own grip on the party structures.
"Having his key backers losing in internal party processes, ahead of crucial national elections in which he is bidding for a second term, could be an indicator of his own trusted circle's tenuous position." Political analyst Rashweat Mukundu concurred, saying the humiliation of Mnangagwa's allies by Zanu-PF members was also detrimental to the strongman.
"I think there is political re-alignment in Zanu-PF which is driven by factional fights. The Zanu-PF primaries were not only in preparation for general elections but were also about power consolidation by Mnangagwa and also power grabbing but those that are seeking to take power from him.
"So my sense is that the President has already lost ground to his rival and likely successor in Zanu-PF, who is Vice-President Constantino Chiwenga. So what we are seeing is a shifting of power within Zanu-PF, which means that the next five years - should Zanu-PF win in 202 - Zimbabwe will be trapped in another power struggle of the party as it prepares for its succession. So essentially Mnangagwa has lost ground, judging by the number of his own lieutenants who lost in the primaries.
"He may not have leverage to decide his successor and that could be determined by his rivals," he said.
Professor Stephen Chan said despite the defeat of some of his allies, Mnangagwa still commands a semblance of power that could only start shifting after the next elections.
"Basically it means little (defeats of allies) in terms of overall presidential support - which Mnangagwa still has. It is likely that the firefights within Zanu-PF will erupt after the first year of another term for Mnangagwa - should be win the elections - for that will be the time to position a rival as prospective President.
"If Mnangagwa loses the next elections, the knives will be out immediately. This overall dynamic depends little on a handful of new faces. Some of the new faces, like many of the old, may not survive the elections if the CCC sweeps to a parliamentary majority," he said.
Ziyambi has been pushing to consolidate the power of Mnangagwa through tinkering with the constitution. He pushed through the Constitutional Amendment Bill number 2 which gave Mnangagwa power to avoid the running mate clause, pick his vice-presidents who he can fire and also appoint senior judges.
Ziyambi is also pushing through the Private Voluntary Bill to give Mnangagwa leverage over non-governmental organisations by having government control and interfere with their operations.
Source - thenewshawks