News / National
8 MPs miss swearing-in ceremony
08 Sep 2023 at 20:11hrs |
Views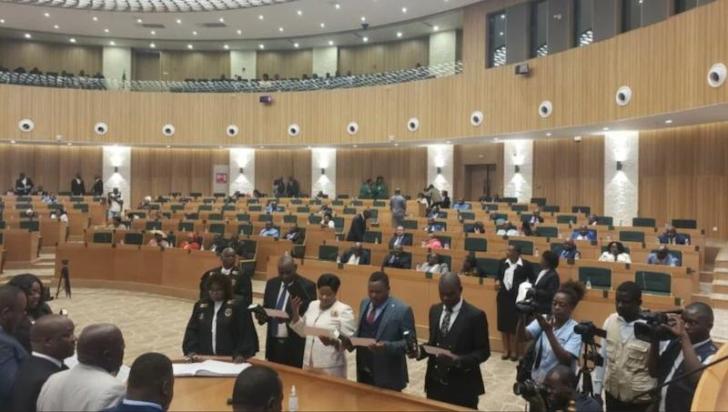 Eight Members of Parliament who were not sworn in yesterday in Harare have accused the Clerk of Parliament of sending out short notices.
The newly-elected MPs were sworn in at the new parliament building in Mount Hampden.
However, the Parliament of Zimbabwe indicated that eight MPs were not sworn in due to various reasons.
The MPs are Prince Sibanda Dubeko (Binga North), Jasmine Toffa (Bulawayo Proportional Representative), Gladys Kudzaishe Hlatshwayo (Gokwe Central), Leslie Brian James (Mberengwa South), Norman Allan Markham (Mutare South), Sekai Marashe (Mudzi South), Supa Collins Mandiwanzira (Chimanimani East) and Chido Sanyatwe (Harare South).
Sibanda accused the Clerk of Parliament of undermining the MPs by giving them less than 48 hours' notice to attend the swearing-in ceremony.
"The challenge that was there is that the Clerk of Parliament undermines us, they think we don't have a life, he gave us a short notice to invite us for swearing in less than 48 hours. I have other businesses that I run, I am a lawyer, I have a diary that I follow so I couldn't attend to that short notice, thus the only reason why I could not attend," said the Binga North MP.
Toffa said she was not in the country when the other MPs were sworn in yesterday.
"As I speak, I am in the airport on my way to Bulawayo. I was not around. When I get there, I will get in touch with Parliament so that they tell me when I will be sworn in," said Toffa.
Zanu-PF director of Information and Publicity Farai Marapire said there are various reasons that may have led the ZANU-PF MPs to skip the swearing-in process yesterday.
"There are many challenges that can lead one not to be sworn in, maybe they were not well. There was a genuine reason not to attend, it's not that they were boycotting or anything, as Zanu-PF we are one big family," said Marapire.
Source - cite