News / National
Mthuli Ncube tours Bulawayo shops, chides business for hiking prices
28 May 2023 at 16:52hrs |
Views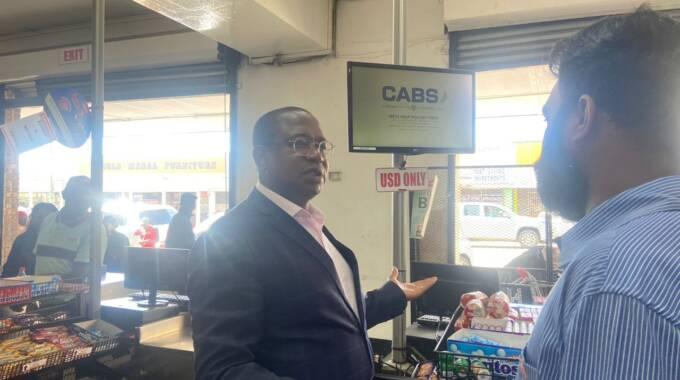 Continued unjustified fluctuation of prices of goods in supermarkets will force people to import basic commodities from outside the country, Finance Minister Professor Mthuli Ncube has stated.
Prof Ncube made these remarks while touring supermarkets and fast food outlets in Bulawayo CBD, Saturday.
There has been an outcry from citizens on the high cost of commodities in supermarkets, which are now beyond the reach of many, owing to low income earned by people.
Prof Ncube visited Simbisa Foods outlet at Jason Moyo Street, OK supermarket, PicknPay and Choppies supermarkets. He also visited Tredgold area that has been flooded by illegal money changers (oSiphatheleni).
The minister chided supermarket operators for unjustifiably hiking prices, noting that they are straining consumers who are already struggling to make ends meet.
He noted that some businesses are refusing local currency for goods they are selling, demanding that customers use USD for transactions.
"We cannot accept such behavior from supermarkets that they are refusing local currency. People should trade in both currencies. We cannot accept such as a government," he said.
"Economically nothing has changed but we have seen prices going up in a space of a week. That is unacceptable and unjustified. We end up as government having to allow people to import their own commodities from neighboring countries. But then again big supermarkets will start complaining that we are informalising the economy when it is them who are starting this whole thing."
Prof Ncube said the other challenge the government has realised of late is that the middlemen are also causing problems in the industry.
"We have realised that the middlemen, so called aggregators, are also part of the problem. On Monday we are going to fine and blacklist them," he said.
He further reiterated that should the behavior of refusing to accept local currency persist, the government would be forced to revoke licenses from those shops.
Customers who interacted with Prof Ncube pleaded with the government to effectively intervene and ensure that prices are reduced and remain reasonable.
"I am a civil servant and I earn RTGS. I have no access to USD but when I want to buy certain commodities they demand forex. In some shops if you want to but sugar you're only allowed to pay for two packets using local currency, anything beyond that you pay in USD," said a customer at PicknPay.
At OK, an elderly woman who was buying 2 litres of cooking oil, pegged at ZWL$9 100 complained that the prices are exorbitant.
The manager at OK explained that their prices are affected by the selling price of their suppliers.
At Pizza Inn, some customers who wanted to pay using the swipe facility were turned away as the staff said there were network issues.
Source - cite.org.zw