News / National
Zimbabwe stockpiles 350kg of gold after new policy
02 Apr 2023 at 11:00hrs |
Views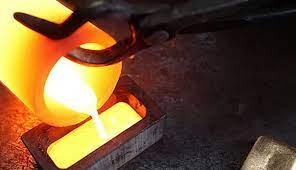 THE Reserve Bank of Zimbabwe (RBZ) has stockpiled more than 350 kilogrammes of gold collected under a new law compelling companies mining gold, diamonds, lithium and platinum group of metals (PGMs) to pay 50 percent of their royalties in refined minerals.
The balance is paid in cash to the Zimbabwe Revenue Authority (ZIMRA).
The Sunday Mail has established that companies extracting bulky minerals such as lithium are surrendering the cash equivalent of 50 percent of their royalty obligations, which is then used by the central bank to purchase gold for the national reserves.
"Yes, we have started implementing the policy directive and so far, we have accumulated 350kg of gold," said RBZ governor Dr John Mangudya.
"Other companies are ceding their obligations in monetary terms and then we convert that monetary value into minerals.
"It is within our guidelines that if a mineral such as lithium that has bulk ore concentrate, they pay the monetary equivalent and we convert it.
"We do not have any real projections on the amount of minerals that we will get by end of the year, but we are expecting a significant amount."
A kilogramme of gold was selling for US$63 300 on the London Bullion Market yesterday. Last year, the authorities amended the Finance Act and the RBZ Act to provide the legal framework for miners of designated minerals to pay half their royalties in the form of refined minerals. The Government levies a 5 percent royalty on platinum and gold miners.
Permanent Secretary in the Ministry of Mines and Mining Development Mr Pfungwa Kunaka said: "We are closely working with the RBZ and implementing policies that support the initiative."
Labour and Economic Development Research Institute of Zimbabwe senior economist Dr Prosper Chitambara applauded the development, saying it will preserve the country's wealth.
"It's a positive development to diversify our reserves. Already, we are seeing a number of countries across the world diversifying away from the US dollar," he said.
"Most countries across the world prefer to hold their wealth in gold. It helps to preserve value, especially with gold, which tends to appreciate with time. It also helps with risk mitigation. It is generally a positive development."
Writing for this publication last year, President Mnangagwa said the Government could use the mineral reserves to securitise borrowings.
"The precious and high-value strategic minerals we accumulate can also be used to securitise any borrowings we may prudently envisage," he said.
"This raises our country's creditworthiness and, thus, our ability to circumvent and fend off funding limitations designed against our economy by those who have imposed illegal and unjust sanctions against us. Like I indicated, our response to these spiteful sanctions should always show greater resolve and creativity on our part so that what was meant to hit us as an adversity turns to defiant advantage, through the alchemy of inventive policies."
Source - The Sunday Mail