Search / Welshmanncube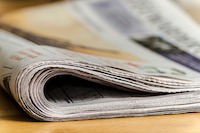 20 April 2017.Dear Comrades!Let me start by congratulating you on the signing of the Memorandum Of Understanding (MOU) between the two parties you lead. This is a step in the right dir...
Published: 21 Apr 2017 at 10:34hrs | 991 | by Ngqabutho Nicholas Mabhena
The MDC leader Professor Welshman Ncube have lamented that the Zimbabwean media has again fallen under siege following the arrest of the NewsDay deputy Editor Nqaba Matshazi and the reporter Xolisani ...
Published: 08 Jan 2016 at 05:45hrs | 1050 | by Stephen Jakes
MDC led by Welshman Ncube has condemned the apparent unwillingness by the ruling Zanu-PF to set up provincial councils as required by the new Constitution saying it was a ploy to prevent devolution....
Published: 09 Sep 2014 at 08:04hrs | 1881 | by Staff reporter
Load More Stories